May 15, 2016: "Story in the Public Square"
NEWPORT, R.I. – Brian Goldner, chairman, president and CEO of giant toy- and game-maker Hasbro, Inc., will be the guest this weekend on "White House Chronicle: Story in the Public Square."
Goldner runs the $4.45-billion company that markets and sells Monopoly, Nerf, Transformers, Star Wars, Disney, Marvel and other house brands and licensed products. But more than that, Hasbro projects influence inside millions of homes across the planet – and it is this unusual role, among other issues, that "Story in the Public Square" hosts Jim Ludes and G. Wayne Miller explore with Goldner in this weekend's episode.
"Hasbro is the oldest major toy and game company in the world and the second-largest in terms of revenue, but more than that, its products – unlike, say, soft drinks or shoes – can play a significant role in the psycho-social development of children," said Miller. "And that is one of the major issues we asked Goldner to discuss: how he and his Rhode Island-based firm manage what can only be called a sacred public trust. His response proved enlightening."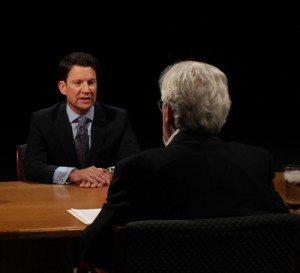 Goldner also talks about the use of narrative storytelling in the toy, TV and film industries; the challenges of running a global toy company; and the research with parents, children, internal staff and outside experts that goes into development of hundreds of products for all age groups, from baby to grown-up.
Previous guests on "White House Chronicle: Story in the Public Square" include New York Times staff writer and best-selling author Dan Barry, whose latest book, "The Boys in the Bunkhouse," will be published on May 17; Tricia Rose, Professor of Africana Studies and Director of the Center for the Study of Race and Ethnicity in America at Brown University and author of "Black Noise: Rap Music and Black Culture in Contemporary America" and "The Hip Hop Wars"; and August Cole, co-author of "Ghost Fleet," a former journalist with the Wall Street Journal, and most recently a senior fellow at the Atlantic Council.
"White House Chronicle" airs nationwide on some 200 PBS and public, educational and governmental (PEG) access stations; and worldwide on Voice of America Television and Radio. An audio version of the program airs four times weekends on SiriusXM Radio's popular POTUS (Politics of the United States), Channel 124: Saturdays at 8 a.m. and 5:30 p.m. ET, and Sundays at 1 a.m. and 4:30 p.m. ET.
In Rhode Island and southern Massachusetts, the program airs Sundays at 11:30 a.m. on Rhode Island PBS, Digital 36.1, and other carriers; and 7 p.m. Sunday on PBS Learn, Digital 36.2, and other carriers.
Story in the Public Square is a partnership of The Pell Center at Salve Regina University and the Providence Journal. Ludes is executive director of The Pell Center and Journal Staff Writer Miller directs the Story in the Public Square program.
Locally, the broadcast will be aired on Sunday, May 15, 2016 at 11:30 a.m. on Rhode Island PBS (WSBE).