March 27, 2016: "Story in the Public Square"
New York Times staff writer and best-selling author Dan Barry, who shared a Pulitzer Prize early in his career at The Providence Journal and has twice been a Pulitzer finalist while at The Times, will be the guest Sunday on "Story in the Public Square," a monthly feature of the national PBS show "White House Chronicle". This is the second episode of "Story in the Public Square," which launched on March 6, 2016. Locally, the broadcast will be aired on Sunday, March 27, 2016 at 11:30 a.m. on Rhode Island PBS (WSBE).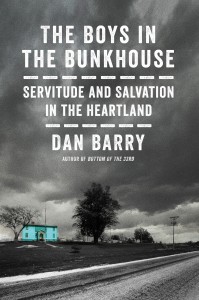 Barry will be talking about his work and soon-to-be-released next book, "The Boys in the Bunkhouse: Servitude and Salvation in the Heartland," which is receiving pre-publication critical acclaim. Set to be released May 17, 2016 by HarperCollins, Barry's latest book tells the story of dozens of men with intellectual disabilities who spent decades working at an Iowa turkey-processing plant, living in an old schoolhouse, and enduring exploitation and abuse – before finding justice and achieving freedom.
"White House Chronicle" airs nationwide on some 200 PBS and public, educational and governmental (PEG) access stations; and worldwide on Voice of America Television and Radio. An audio version of the program airs four times weekends on SiriusXM Radio's popular POTUS (Politics of the United States), Channel 124: Saturdays at 8 a.m. and 5:30 p.m. ET, and Sundays at 1 a.m. and 4:30 p.m. ET.
In Rhode Island and southern Massachusetts, the program airs Sundays at 11:30 a.m. on Rhode Island PBS, Digital 36.1, and other carriers; and 7 p.m. on PBS Learn, Digital 36.2, and other carriers.
For more information on White House Chronicle and to find your station, visit whchronicle.com.