Maddie McGarvey on "Story in the Public Square"
Air Dates: March 3-4, 2018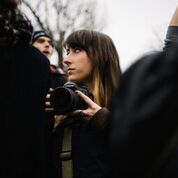 I know I'm not alone in marveling at the work talented photographers do; the composition; the courage to go after stories; the ability to frame a subject is a skill more than "pointing and shooting" a camera.  This week's guest, Maddie McGarvey, does it better than most.
Maddie McGarvey is a freelance photographer based in Columbus, Ohio. She graduated from Ohio University's School of Visual Communication in 2012 with a degree in Photojournalism, interned at the San Francisco Chronicle in 2011, and worked as a staff photographer at the Burlington Free Press in Vermont before returning to the Midwest.
In 2014 she was named an Emerging Talent for Getty Reportage and in 2015 was selected as one of Magnum's 30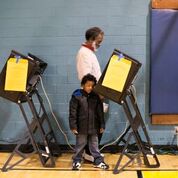 Photographers under 30.  In 2016, she was chosen as one of TIME's 51 Instagram Photographers to follow in the USA and was recognized by Picture of the Year International for her campaign work. She frequently works for The New York Times, Wall Street Journal, Washington Post, AARP, NPR, ESPN and her work has appeared in Mother Jones Magazine, The New Republic, The New York Times Magazine, FiveThirtyEight, among others.
"Story in the Public Square" airs on Rhode Island PBS in Rhode Island and southern Massachusetts on Sundays at 11 a.m. and is rebroadcast Thursdays at 7:30 p.m. An audio version of the program airs Saturdays at 8:30 a.m. & 9:30 p.m. ET and Sundays at & 12:30 p.m. ET on SiriusXM's popular P.O.T.U.S. (Politics of the United States), channel 124.
Story in the Public Square is a partnership between the Pell Center and The Providence Journal. The initiative aims to study, celebrate, and tell stories that matter.