Lisa Genova, Best-selling Author of Still Alice, to Receive 2015 Pell Center Prize
NEWPORT, R.I. – New York Times best-selling author Lisa Genova will be honored June 4 at Salve Regina University when she receives the third annual Pell Center Prize for Story in the Public Square, an award recognizing a contemporary storyteller whose work has had a significant impact on the public dialogue.
Genova, who holds a Ph. D. in neuroscience from Harvard University, has written about neurological diseases and their impact on affected individuals and their families. Her works include Inside the O'Briens (2015), Love Anthony (2012), Left Neglected (2011), and Still Alice (2009), which has spent 56 weeks on the New York Times bestseller list and been made into a major motion picture.
Genova will receive the award at an event on June 4, 2015 on the campus of Salve Regina University in Newport, RI.  Additional details will be released in coming weeks.
"I'm honored and thrilled to be receiving the 2015 Pell Center Prize," Genova said. "Thank you for recognizing storytelling as an accessible way to understand complex and often frightening neurological diseases and disorders."
"Lisa Genova is a talented storyteller whose work prompts us to consider the personal experience of living with disease," said Jim Ludes, executive director of the Pell Center. "We are thrilled to welcome her to Salve Regina University."
Said Story in the Public Square Director G. Wayne Miller, "With her science background and gift for narrative, Lisa occupies a unique position in the literature of Alzheimer's Disease and other neurological disorders. She has helped prompt a national discussion about individuals and families with these diseases—and the overall public-health ramifications of an aging population."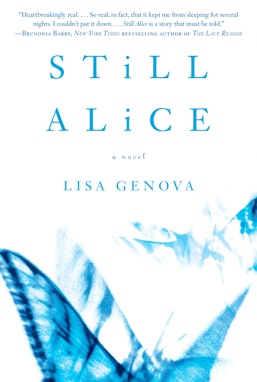 Still Alice tells the story of Alice Howland, a Harvard professor, wife and mother, who battles early-onset Alzheimer's disease. The novel has been recognized by several book clubs and is now a film from Sony Pictures Classics starring Julianne Moore, Alec Baldwin, Kristen Stewart, Kate Bosworth, and Hunter Parrish. Julianne Moore won the 2015 Best Actress Oscar for her role as Alice Howland.
Inside The O'Briens (2015), Genova's fourth novel, tells the story of a family living with Huntington's Disease. Within a week of being published, Inside The O'Briens landed on the New York Times bestseller list and was recognized by the Library Journal as "a gut-wrenching and memorable read."
Previous winners for the Pell Center Prize are Danny Strong (2014), an Emmy-winning screenwriter, producer and actor; and Dana Priest (2013), two-time Pulitzer Prize-winning former Washington Post writer, now the John S. and James L. Knight Chair in Public Affairs Journalism at the Philip Merrill College of Journalism, University of Maryland.
The Pell Center for International Relations and Public Policy at Salve Regina is a multidisciplinary research center focused at the intersection of politics, policies and ideas. Dedicated to honoring Sen. Claiborne Pell's legacy, the center promotes American engagement in the world, effective government at home and civic participation by all Americans.
A partnership between the Pell Center and The Providence Journal, Story in the Public Square is an initiative to study, celebrate, and tell stories that matter. For more information, please visit publicstory.org.