Daphne Matziaraki Accepts the 2017 Pell Center Prize for Story in the Public Square
Newport, R.I. – Standing in front of a sold-out audience on June 5, 2017, documentary filmmaker Daphne Matziaraki accepted the 2017 Pell Center Prize for Story in the Public Square. The prize, awarded annually since 2013, honors a storyteller whose work has significantly influenced the public dialogue.
Matziaraki, whose short documentary "4.1 Miles" was nominated for an Academy Award, returned to her native Greece to capture footage of the refugee crisis on a Coast Guard boat off the island of Lesbos.
Screened in Newport, Rhode Island, the 21 minute and 20 second film played in front of an audience that largely had never been exposed to such a grave human crisis. Matziaraki drew parallels between coastal Lesbos, Greece, at the epicenter of her film and the flood of refugees escaping conflict by inflatable rafts and boats, and the seaside community of Newport, Rhode Island. "The only knowledge [the citizens of Lesbos] had of the situation was through the news, and suddenly the news came to their doorstep in such a violent way," said Matziaraki.
Lacking adequate supplies and proper training, the citizens nevertheless dropped everything to assist the refugees when they hit the shore – and Matziaraki was there to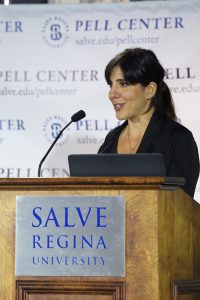 document it. "This big shipwreck happens and everyone from the village comes out to help, and religion doesn't matter, and political beliefs don't matter, because life and death is the same for all people, for all mothers, for all children."
Matziaraki explained to a misty-eyed audience that the film is not intended to be a call to action, and refused to endorse any particular relief organization: "I think it's up to every one of us to research and see where and how we would like to help." She repeatedly recognized the sacrifices that men and women, like Coast Guard captain Kyriakos Papadopoulos and his crew, make to save desperate refugees without adequate support, equipment or training.
In presenting the Pell Center prize for her meaningful contribution to public dialogue, Pell Center Executive Director Jim Ludes praised Matziaraki for the power of her work. "We feel empathy for the children and adults who are literally fleeing for their lives, at extreme risk of death," he said. "We feel these people's fears – and the hope that drives them. We admire the captain and his crew, who themselves face risk in saving strangers—and who challenge us to look within and ask what are we personally doing for the refugees in our world?"
G. Wayne Miller, director of the Story in the Public Square initiative and a journalist with The Providence Journal, celebrated the film. "It connects on the deepest level, on a very deep emotional level, which is really where change can begin," he said. "You have to feel this, you have to experience this in your heart, and I think we did."
Matziaraki previously reported from humanitarian emergencies in Africa and Europe, and now lives in the San Francisco bay area. On June 24, 2017, she will be a featured guest on "Story in the Public Square," the Pell Center's public affairs radio and television show. "Story in the Public Square" airs weekly on SiriusXM P.O.T.U.S. (channel 124) as well as Rhode Island PBS.
Founded in 2012, Story in the Public Square is an initiative to celebrate, study and tell stories that matter. A partnership of the Pell Center and The Providence Journal, the program sponsors public seminars and discussions, annually names a local and national story of the year, and is guided by a culturally and creatively diverse Story Board.