Dan Barry receives 2018 Pell Center Prize for Story in the Public Square
The buzz of excitement, and joy of reconnecting with old friends emanated through the ballroom at the Pell Center. Family, friends and former colleagues gathered to honor the creative storytelling of a lifetime.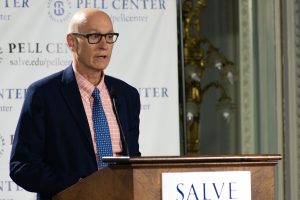 On April 23, Dan Barry, a New York Times senior writer, author of four books, Pulitzer winner, and two-time Pulitzer finalist, received the 2018 Pell Center Prize for Story in the Public Square. The prize honors a storyteller whose work has significantly influenced the public dialogue.
At the beginning of his career, Barry was a member of a Providence Journal team that won the 1994 Pulitzer Prize for Investigative Reporting. Many of those he worked with including Tom Heslin, a former executive editor of the Journal, were in the audience. Barry reflected on his time at the journal, shared some humor, and advice he had received from Heslin that made him look at things a bit differently: "Slow. It. Down," the former editor had told the young reporter. And for Barry, it's made a world of difference, helping him to find a story in the "seemingly mundane details."
"To me, telling stories is like the childhood pursuit of catching fireflies in a glass jar." Barry said. "In the never-ending rush of time, you reach out to capture a glowing moment. You hold it up to examination with a kind of informed innocence."
G. Wayne Miller, current senior writer at the Providence Journal and director of Story in the Public Square reminisced of Dan's early days at the Journal with praise. "I have come to believe that some things can only be explained by magic, and I now understand that Dan's way with words — the stunning power of his prose; his voice, unlike any other — was magic of the highest literary order," said Miller.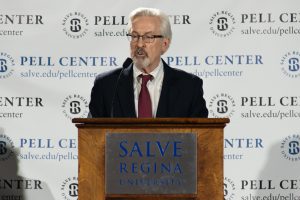 Story in the Public Square is an initiative that celebrates and analyses the role storytelling plays in public life. In his opening remarks, Executive Director of the Pell Center at Salve Regina University, Jim Ludes touched on why Dan's work encapsulates the purpose of what Story in the Public Square set out to do.
"We want more and more people to understand that we are bombarded by stories every day, some of them are truthful.  Some of them are not.  But all shape our understanding of the world around us and the actions we take as citizens and, collectively, as a democratic society," said Ludes.
While in Rhode Island, Barry taped an episode of "Story in the Public Square" for broadcast on SiriusXM Satellite radio and Rhode Island PBS to air on the weekend of May 5, 2018. Like the exuberant evening of the Pell Center Prize award, it is an episode filled with laughter and wit.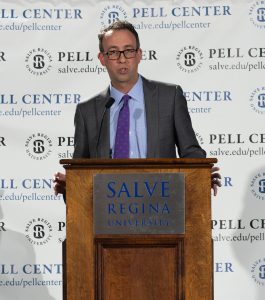 "Storytelling sustains us," Barry said, "It helps us to navigate the shoals of life. To understand our everyday existence. To empathize with our brothers and sisters. To embrace the human condition in all its complicated wonder and glory."
Barry's most recent book, "The Boys in the Bunkhouse: Servitude and Salvation in the Heartland," about men with intellectual disabilities who spent decades working at an Iowa turkey-processing plant while living in an old schoolhouse, was a searing story of exploitation and abuse – and eventual justice and freedom. It was recently named the All Iowa Reads selection for 2018.
His other books include "Pull Me Up," "City Lights: Stories About New York," and "Bottom of the 33rd: Hope, Redemption, and Baseball's Longest Game," set in Pawtucket. A collection of Barry's national columns for The Times, "This Land: Dispatches from Real America," is scheduled to be published in September. To read some of Dan's work at The New York Times, visit, www.nytimes.com/by/dan-barry.
Visit our post "Dan Barry Acceptance Remarks for 2018 Pell Center Prize for Story in the Public Square" to see his full speech from the evening.
"Story in the Public Square" airs weekly on SiriusXM P.O.T.U.S. (channel 124) as well as Rhode Island PBS. Founded six years ago this month, Story in the Public Square is an initiative to study, celebrate, and tell stories that matter. A partnership of the Pell Center and The Providence Journal, the program sponsors public events, and names the top public narrative each year. Past episodes may be viewed at http://pellcenter.org/story-in-the-public-square/episodes/
Visit Story in the Public Square at pellcenter.org, like on Facebook and follow on Twitter @PubStory.
All photos courtesy of Lewis Abramson.