Cybersecurity and Cyberwar: What Everyone Needs To Know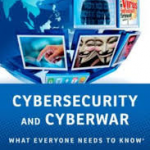 A generation ago, "cyberspace" was just a term from science fiction, used to describe the nascent network of computers linking a few university labs. Today, our entire modern way of life, from communication to commerce to conflict, fundamentally depends on the Internet. And the cybersecurity issues that result challenge literally everyone: politicians wrestling with everything from cybercrime to online freedom; generals protecting the nation from new forms of attack, while planning new cyberwars; business executives defending firms from once unimaginable threats, and looking to make money off of them; lawyers and ethicists building new frameworks for right and wrong. Most of all, cybersecurity issues affect us as individuals. We face new questions in everything from our rights and responsibilities as citizens of both the online and real world to simply how to protect ourselves and our families from a new type of danger. And, yet there is perhaps no issue that has grown so important, so quickly, and that touches so many, that remains so poorly understood.
Peter W. Singer is Senior Fellow and Director of the Center for 21st Century Security and Intelligence at the Brookings Institution. He is the youngest scholar named Senior Fellow in Brookings's 95-year history. He has been named by CNN to their "New Guard" List of the Next Generation of Newsmakers, by the Smithsonian Institution-National Portrait Gallery as one of the 100 "leading innovators in the nation," by the Turner Broadcasting series "26 People to Save the World," by Defense News as one of the 100 most influential people in defense issues, and by Foreign Policy Magazine to their Top 100 Global Thinkers List, of the people whose ideas most influenced the world that year.
Date: Tuesday, April 15, 2014
Time: 7:00 p.m.
Place:
Salve Regina University
Bazarsky Lecture Hall
Ochre Point Avenue (intersection of Shepard Avenue)
Newport, RI
RSVP to [email protected] or 401-341-2927