Championing Cybersecurity Awareness Month: Picks of the Week
Presidential Proclamation – National Cybersecurity Awareness Month, 2016 | The White House
How Weak Cybersecurity could Disrupt the U.S. Election | Politico
Cybersecurity is just too much trouble for the general public, claims study | TripWire
Obama administration accuses Russian government of election-year hacking | Politico
October marks National Cyber Security Awareness Month (NCSAM) – a time when participating governments and organizations come together to raise public awareness about cybersecurity, provide citizens and businesses alike with tools and resources needed to stay safe online, and increase the Nation's resilience in the event of a cyber incident.
NCSAM is a coordinated effort of the National Cyber Security Alliance (NCSA), the U.S. Department of Homeland Security (DHS), the Multi-State Information Sharing and Analysis Center (MSISAC), as well as companies, schools, and nonprofit organizations around the country. This year, the stakes are higher than ever: over 169 million personal records were exposed in the US in 2015 alone and, so far, 22% more breaches have been reported this year. The average cost of a data breach has risen to $4 million per incident, and US businesses are losing up to $300 billion in intellectual property theft alone. Hackers release a new piece of malware every 200ms (a couple thousands by the time you're done reading this article), and hacking attempts show no signs of slowing. At the same time, the general public seems to be suffering from "security fatigue" and a feeling of helplessness when it comes to their online security, according to a new study. Compounding these issues, the integrity and legitimacy of the upcoming Presidential election seem to be hanging in the balance after the recent string of hacks of Democratic party's organizations and voter registration systems.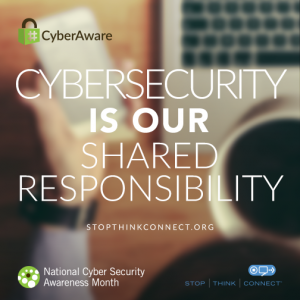 Recognizing the importance of cybersecurity issues, President Obama designated October as National Cyber Security Awareness Month in 2004, and this year kicked things off with a presidential proclamation that highlighted his new Cybersecurity National Action Plan, as well as the establishment of a Commission on Enhancing National Cybersecurity – which has been hard at work to recommend ways to strengthen cybersecurity in both the public and private sectors and promote best cybersecurity practices. "Keeping cyberspace secure is a matter of national security, and in order to ensure we can reap the benefits and utility of technology while minimizing the dangers and threats it presents, we must continue to make cybersecurity a top priority," Obama's proclamation reads.
Salve Regina University is an official champion of National Cyber Security Awareness Month, and for the second year in a row, the Pell Center is supporting this national effort and is actively participating to multiple discussions and initiatives across the country. In addition, the Pell Center is posting cybersecurity tips, resources, and insights on social media throughout the month, and is hosting cybersecurity-related events around campus, including a panel discussion on "Hacking the Election."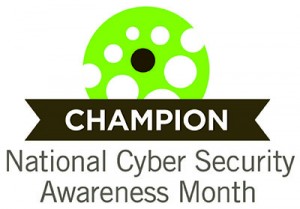 In addressing pressing cybersecurity security issues, National Cyber Security Awareness Month has a distinct theme for each week. The overall message of this initiative is to "STOP | THINK | CONNECT" – stop to make sure security measures are in place; think about the implications of our increasingly digital and connected lives and the consequences of our actions and behaviors online; connect and enjoy the benefit of the global Internet economy. That's actually excellent advice for any online activity, whether that's uploading snapshots, signing up for a new online service, clicking through to a website, making an online purchase, or downloading the latest app.
While the upcoming week of National Cyber Security Awareness Month will be dedicated to "Creating a Culture of Cybersecurity in the Workplace," the reality is that no individual, business, or government entity is immune to cyber risks and none of them is solely responsible for securing their own Internet connectivity and digital assets. All of us have a role to play in securing our critical services, our businesses, and the information we create, store, and process through the devices and networks we use. "Cybersecurity is a shared responsibility," reiterated President Obama in his proclamation, and he stressed that everyone should do their part to ensure "our information is more secure, our data is safer, and our families and businesses are more protected than ever before. If we work toward this goal – as individuals and as a Nation – together we can realize our full potential in the digital age."  Indeed, individual actions have a collective impact, and when we use the Internet safely we make it more secure for everyone. If each of us does our part by implementing stronger security practices, adopting better cyber hygiene, and treating cybersecurity as an inherent component of  organization's policies and processes, we can collectively become a more secure, safer, and resilient digital society.
You can join in the conversation by following @PellCenter on Twitter and using the official NCSAM hashtag #CyberAware throughout the month, and can get additional information and resources by visiting Stop.Think.Connect, Stay Safe Online, and the European Cyber Security Month website.
– Senior Fellow Francesca Spidalieri