April 29, 2017 – "Story in the Public Square"
According to the National Institute of Mental Health, about 50 million adult Americans live with a diagnosable mental health disorder.  Despite its prevalence, our guest Paul Gionfriddo confronts a lot of myths in the discussion of mental health issues in America.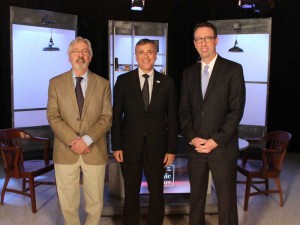 Gionfriddo is President and CEO of Mental Health America. He has worked in a variety of health and mental-health related positions during a career spanning over thirty years. In 2013, he was appointed by HHS Secretary Kathleen Sebelius to a four-year term on the 12-member National Advisory Council to the SAMHSA Center for Mental Health Services.
Gionfriddo's essay, entitled How I Helped Create a Flawed Mental Health System That's Failed Millions – And My Son, was published as the Narrative Matters essay in the September 2012 issue of Health Affairs and was also published in the Washington Post in October 2012. The full-length version of the story was published as a book, entitled Losing Tim: How Our Health and Education Systems Failed My Son with Schizophrenia.
"Story in the Public Square" airs on Rhode Island PBS in Rhode Island and southern Massachusetts on Sundays at 11 a.m. and is rebroadcast Thursdays at 7:30 p.m. An audio version of the program airs Saturdays at 8:30 a.m. & 6:30 p.m. ET and Sundays at 1:30 a.m. & 12:30 p.m. ET on SiriusXM's popular P.O.T.U.S. (Politics of the United States), channel 124.
Story in the Public Square is a partnership between the Pell Center and The Providence Journal. The initiative aims to study, celebrate, and tell stories that matter.