April 17, 2016: "Story in the Public Square"
The third episode of "Story in the Public Square" will be featured on this weekend's edition of White House Chronicle. Locally, the broadcast will be aired on Sunday, April 17, 2016 at 11:30 a.m. on Rhode Island PBS (WSBE).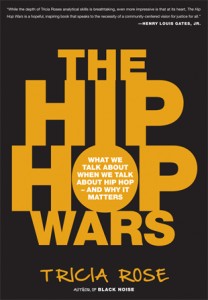 This week, "Story in the Public Square" welcomes guest Tricia Rose, Professor of Africana Studies and Director of the Center for the Study of Race and Ethnicity in America at Brown University. She is the author of "Black Noise: Rap Music and Black Culture in Contemporary America" as well as "The Hip Hop Wars," both of which sparked public narrative when they were released and continue to do so today.
"White House Chronicle" airs nationwide on some 200 PBS and public, educational and governmental (PEG) access stations; and worldwide on Voice of America Television and Radio. An audio version of the program airs four times weekends on SiriusXM Radio's popular POTUS (Politics of the United States), Channel 124: Saturdays at 8 a.m. and 5:30 p.m. ET, and Sundays at 1 a.m. and 4:30 p.m. ET.