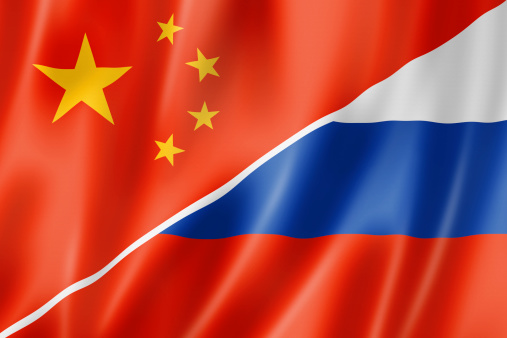 As the U.S. relationship with China and Russia continues to deteriorate—cyber-espionage accusations straining relations with the former, the crisis in Ukraine complicating ties with the latter—the two Eastern superpowers joined forces last week to sign a new cybersecurity pact.
The deal between China and Russia unites our main cyberspace adversaries and signals Russia's pivot to the East, all of which will likely exacerbate cybersecurity tensions all around.
According to the Wall Street Journal, the terms of the agreement are clearly aimed to bring Russia and China closer together: they have vowed not to launch cyber attacks against each other; they have agreed to pool information; they have committed to share law enforcement and technology resources to better equip themselves against any incoming attack that may attempt to "destabilize the internal political and socio-economic atmosphere," "disturb public order" or "interfere with the internal affairs of the state".
While it may be naive to believe the pact signals the end of Russia and China spying on each other—countries will always be suspicious of others—the new pact will undoubtedly see the two nations strengthen their defenses significantly, while freeing up offensive resources for deployment elsewhere, perhaps even in the United States, as House Intelligence Committee Chairman Mike Rogers (R-Mich) warns.
This new cybersecurity pact follows both a renewed push from Beijing and Moscow in favor of changes to global Internet governance that would reduce the traditional role of the U.S., and years of hacking attempts and cyber intrusions believed to emanate from both Russia and China.
Recently, Secretary Ashton Carter revealed Russian hackers were able to breach one of the DoD's unclassified computer networks—which, according to The New York Times, was in fact the White House's unclassified computer system. They reportedly gained access to the email archives of people inside the White House, and perhaps some outside, with whom Obama regularly communicated and were thus able to read emails that the President had sent and received. The same month as these alleged cyber attacks, Fire Eye, an online security company, released a detailed report suggesting that state-sponsored attacks originating from Russia had focused on lifting military, government, and security information. Their findings came amid rising Sino-American tensions related to information security. China, in fact, pulled out of its own cyber working group with the U.S. last year, after the U.S. Justice Department indicted five members of China's People's Liberation Army on cyber espionage charges, and denounced tech giants like Google and Apple as "pawns" of the American government. As if these events were not enough to increase frictions, China recently crossed a historic first: explicitly admitting the existence of special cyber warfare units.
The U.S., meanwhile, has recently unveiled a new, more aggressive cybersecurity strategy (.pdf). The strategy's tenets include accelerating cyber-related R&D at the Pentagon, conducting an assessment of the DOD cyber mission force's ability to deal with multiple threats, and fleshing out the department's deterrence doctrine. The long cyberwar of the 21st century may just be getting started, but the battle lines are already being drawn.
Russia and China Pledge Not to Hack Each Other | The Wall Street Journal
What does China-Russia 'No Hack' Pact Mean for the US | Dark Reading
White House Cites a Breach by Hackers | The New York Times
Related Posts