Upcoming Film Screening: Pell Grants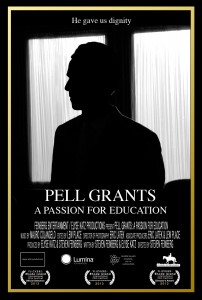 NEWPORT, R.I. – Filmmakers Elyse Katz and Steven Feinberg will join former members of the late Senator Claiborne Pell's staff on Wednesday, April 30, for a screening of Pell Grants: A Passion for Education.
The 2013 documentary, which premiered at last summer's Rhode Island International Film Festival, tells the story of the celebrated Pell Grants and the role of higher education in today's ever-changing world.
The screening begins at 7 p.m. at Salve Regina University's Pell Center, located in the Young Building, at the corner of Bellevue and Ruggles Avenues. The event is free and open to the public but please RSVP to mailto:[email protected]or 401-341-2927.
Following the screening, Feinberg and Katz will join former Pell staff members Thomas Hughes, David Evans and Sarah Flanagan for a question-and-answer period.
The screening is sponsored by the center's Story in the Public Square program, publicstory.org, which on April 11 staged its second annual all-day conference on the topic of Moving Images: public storytelling in Hollywood, documentary, animation and video filmmaking.
More about Pell Grants: A Passion for Education can be found at www.facebook.com/IAmPell
Date:             April 30, 2014
Time:   7:00 p.m.
Place:
Pell Center at Salve Regina University
Young Building
518 Ruggles Ave.  (on the corner of Bellevue Ave. and Ruggles Ave.)
Newport, RI
RSVP to [email protected] or 401-341-2927