Pell Center Continues Pell Family Legacy of Honoring RI Students for Excellence in U.S. History
NEWPORT, R.I. — The Pell Center at Salve Regina University today announced it would administer the Herbert Pell and Claiborne Pell Medal for U.S. History.
Established by the Pell family, the Pell Medal is named for Representative Herbert C. Pell and his son, Senator Claiborne Pell.  It is a testament to their belief that understanding American history is essential to leadership.  Accordingly, the medal is awarded annually to one student at each high school and college in the state who has excelled in the study of U.S. history.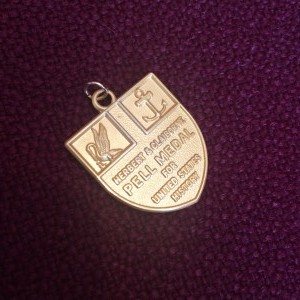 The medal, which features a pelican on the left side and an anchor on the right, symbolizes the Pell family and the state of Rhode Island.  Herbert C. Pell served as a member of Congress and American Minister to Portugal and Hungary, while Claiborne Pell, who is responsible for the creation of the Pell Grant and the National Endowment for the Humanities, served in the Senate for 36 years and worked to build strong foreign relations for the United States.
The medal was originally presented by Senator Pell and his wife, Mrs. Nuala Pell.
"We are humbled to serve as stewards of this wonderful tradition," said Pell Center Executive Director Jim Ludes.
"I am so happy that the Pell Medal will continue to recognize Rhode Island's next generation of students," said Clay Pell.  "Across every corner of the state, former recipients have told me how much this special recognition has meant to them.  I would like to thank the Pell Center at Salve Regina University for their partnership, and I look forward to meeting many future Pell Medal recipients in the years to come."
Selection forms will be sent to schools in April and the medals distributed before the end of the school year.
The Pell Center for International Relations and Public Policy at Salve Regina University is a multi-disciplinary research center focused at the intersection of politics, policies and ideas. Dedicated to honoring Senator Pell's legacy, the center promotes American engagement in the world, effective government at home and civic participation by all Americans.