New Study: Senior U.S. Military Schools Struggle to Include Cyber Education in Curricula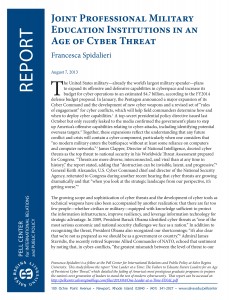 New study finds mismatch between the challenges posed by cyber threats to national security and the limited exposure students receive at the nation's senior military schools
Newport, R.I. – America's military graduate programs are struggling to integrate cyber education within their curricula and to reorient their academic objectives and outcomes to prepare senior military officers to lead in the cyber age. In a new study, "Joint Professional Military Education Institutions in an Age of Cyber Threat," Pell Center Fellow Francesca Spidalieri surveys efforts by senior military institutions in the United States to educate their graduates—and ultimately the nation—for the strategic and operational challenges of our time. This study follows the report "One Leader at a Time: The Failure to Educate Future Leaders for an Age of Persistent Cyber Threat," which detailed the failing of America's most prestigious civilian graduate programs to prepare graduates to lead in an era of persistent cyber threat.
"On the whole, the schools that offer joint professional military education (JPME) are, like their civilian counterparts, not yet up to the challenge posed by cyber risks and opportunities," said Spidalieri.  "There can be little doubt that military conflict in the future will contain a cyber component," she said, adding "yet the training of America's next generation of military leaders remains locked in time, focused on traditional military paradigms and traditional rules of war, and too often failing to convey an understanding of the underpinning of the new digital battlefield."
In this report, Spidalieri surveyed the six military graduate programs that offer joint professional military education and that traditionally develop strategic and operational leaders for the U.S. military. The results provide an overview of current efforts by these institutions to include information technology and cyber security into their curricula. To date, most of the programs reviewed for this study have neither fully integrated cyber into their existing core curricula nor aligned their programs with the strategic goals of the nation's cyber defense strategy.
"The professionalism inherent in American military officers comes from a deliberate combination of education, training and experience designed to produce successful senior leaders," said Maj. Gen. Brett Williams (USAF), Director of Operations for U.S. Cyber Command. "Despite the fact we have over 20 years of experience with conflict in cyberspace," he continued "we have yet to effectively integrate cyberspace operations into professional military education.  Ms. Spidalieri's research makes this point clearly and defines the imperative for immediate action at the War College level for both military leaders and their civilian counterparts.  Too often when the money gets tight, education pays the price.  We simply cannot let this happen.  Our national security depends on leaders with the right mix of cyberspace education, training and experience and we need them now."
"No captain of a ship would say: 'I don't know anything about the ocean, but I hired somebody to drive the ship,' quipped Spidalieri.  "Similarly, future generations of military leaders and government officials who have to navigate a digitized world need to have strong cybersecurity skills, the ability to make military and policy decisions based on knowledge of cybersecurity risks and potential impacts, and the understanding necessary to leverage cyberspace advantage to create effective strategies. This will be the deciding factor for military success and resiliency."
Advanced militaries around the world are embedding cyber capabilities in their existing force structures and military planners are incorporating cyber-attack into their doctrines and plans. The United States—which already has one of the most powerful offensive cyber capabilities in the world—is developing rules of engagement regarding cyber-attacks and is seeking to bolster its arsenal of cyber weapons. U.S. government officials and senior military officers regularly decry cyber threats as the top threat to national security, recognizing that a well-executed cyber-attack could not only seriously damage our economy but also jeopardize the execution of entire military missions.
"Cyber-attacks are among the greatest national security threats facing our country today," said Senator Sheldon Whitehouse.  "This report is a valuable resource for our professional military education institutions.  As our troops train in the 21st century, they must be fully prepared to confront cyber threats."
The report is based on the premise that military leaders need not have specific training in computer science or engineering, but they must have a deep understanding of the cyber context in which they operate, compounded with more traditional fields such as military ethics, strategic studies, international law, and so forth. "As soldiers, sailors, airman, and marines turn their attention from incoming missiles to cyber weapons, a technology-centric education will be insufficient to counter and mitigate current and future cyber threats," Spidalieri stressed. "Only a truly comprehensive education will help foster modern military leadership and enable them to harness the right tools, people, and strategies, and balance of offensive and defensive cyber capabilities.  Part of that education must be in cybersecurity."
"The key question is not whether the United States can develop the most powerful cyber capabilities in the world—we can," said Pell Center Director Jim Ludes.  "The question," he continued, "is whether our leaders—be they military or civilian—are equipped with the knowledge necessary to protect the things that matter in the information age and to leverage those things to our strategic advantage."
The report—drafted after four months of extensive research and interviews—illustrates the current state of affairs of senior military graduate program to further the assimilation of cyber into the operational arena for each physical domain.  The fundamental question was whether these programs included courses, occasional conferences, war gaming exercises or other forms of training for their officers to be exposed to cybersecurity issues and gain the knowledge necessary to integrate cyber capabilities and information activities with other U.S. government actions.
The report finds that much remains to be done. Although the report praises the increased effort by military graduate programs to develop new content for cyber education—especially in comparison to the much slower or nonexistent progress in American civilian universities—a preparation gap still persists. In brief, there remains a significant imbalance between the evident need to educate all military leaders about the complexities of cyberspace and the marginal role that cyber education still plays in some of the JPME institutions evaluated. The different level of exposure to cyber education and training seems more striking when comparing some of these graduate programs that should, at least in theory, offer similar joint professional military education curricula.
To download a copy of the report, click here.