Langford Sonder Releases Parts I and II of the "Polarization Index: A Holistic Analysis of the State of U.S. Political Strife."
September 25, 2023
NEWPORT RI–Pell Center Associate Director and Fellow Katie Langford Sonder released Parts I and II of the "Polarization Index: A Holistic Analysis of the State of U.S. Political Strife." The four-part series uses national data from a plethora of reliable sources to understand how politically polarized Americans are on the most pressing issues of the day. Parts III and IV of the Index will be published by the end of the year.
Part I covers perceptions of the stability of U.S. democracy and the rise of affective polarization, a deep dislike and distrust of those in opposing political party absent major ideological shifts. Part II tackles ideological polarization, comparing and contrasting the major political parties' beliefs on important policy issues. While evidence of affective polarization has been well-documented in political science spheres, proof of ideological polarization has been more elusive. Taken together, these two reports therefore provide an in-depth analysis of political polarization in the United States.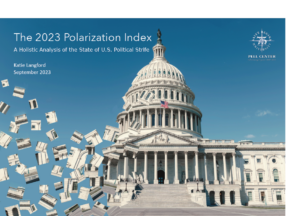 Part I shows that political affiliation in the United States has begun to morph with other salient social identities, including religion, race, and age. For example, almost half of White people are conservative and over a third of people age 18-34 are liberal. This oversimplification of complex human identities along one dividing line—political party affiliation—creates a ripe environment for affective polarization. Republicans and Democrats tend to view the other party as the larger threat to U.S. democracy and increasingly view members of the opposing party as close-minded and immoral.
Since 2017, however, the percent of moderates and those who are unsure of their party affiliation has increased (the percent of liberals has decreased, and the number of conservatives has remained nearly the same). This data challenges the common narrative that there is a 'shrinking middle' between two increasingly extreme ends of the political spectrum. An increasing shift to the middle, or even the outside of the standard political spectrum, may signal that the American public is exhausted by the increasing levels of polarization, especially when it puts them at odds with their compatriots.
Americans are more likely to believe that being American is more important to their identity than their political affiliation. Over three-quarters (84%) of Republicans say being an American is extremely or very important to their identity, compared to only 36% who say their Republican identity is. Just over half of Democrats and Independents believe their American identity is very or extremely important.
This is great news, said Langford Sonder. "Enhancing our shared identity as Americans will become increasingly important, especially since most Americans believe U.S. democracy is at risk and well over half believe partisan polarization has increased over the last few years and will continue to increase." She added, "It is also one of the most effective techniques to reduce toxic polarization" (see Megastudy identifying effective interventions to strengthen Americans' democratic attitudes by Voelkel et al.).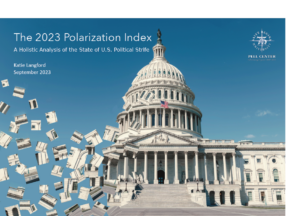 Part II of the Index reviews data on ideological polarization, covering a plethora of topics, including the economy, climate change, gun rights, reproductive rights, and race and racism.
Americans generally agree on which issues are the most important and most impactful on their lives. In 2022, they were most concerned about the economy and inflation; 83% of the public believed these issues present a serious threat to U.S. democracy. In February 2023, Republicans and Democrats agreed that political elites should compromise to raise the debt ceiling to avoid an economic downturn.
There is no single issue on which there is overwhelming partisan agreement and overlap, however. Instead, Democrats and Republicans agree on certain aspects of each issue. On some issues they agree on policy options, while on others they both acknowledge that changes are needed. For example, the majority of Americans—no matter their political party—support requiring universal background checks for all gun buyers, removing guns from those at risk of violent behavior, and raising the minimum legal age to buy a gun. Democrat and Republican support fell along partisan lines regarding the 2022 gun law signed by Biden (51% of Democrats were strongly in favor compared to only 12% of Republicans), however, despite the inclusion of provisions with wide bipartisan support.
"A major takeaway from Part II is that these issues are as complex as human behavior and I think that's a fine place to start as we hope to move away from toxic polarization," Langford Sonder said. "People have malleable ideological beliefs and tend to place their support along partisan lines. If we can recognize those traps of psychology and that there is no one single approach to make progress against these issues, we may begin to make space for compromise."
Parts III and IV, which will be published by the end of 2023, cover the three branches of U.S. government, media and disinformation, and election integrity.
Katie Langford Sonder is the Associate Director of the Pell Center at Salve Regina University and directs the Center's research agenda, contributing her own scholarship while supporting the work of Pell Center fellows.  She also directs the Nuala Pell Leadership Program at the Pell Center which exposes a select number of diverse, high-achieving undergraduate students to both the theory and practice of leadership with an emphasis on public service.  Langford Sonder joined the Pell Center in 2022.