Gorbea Chairs Workshop on Blockchain Tech Revolution at NALEO's 40th-Annual Conference
­­July 21, 2023
NEW YORK – The Pell Center's Visiting Senior Fellow on Cybersecurity and Democracy, Nellie Gorbea, chaired a workshop on The Blockchain Tech Revolution at NALEO Educational Fund's 40th-Annual Conference in New York City last week. Gorbea, who is a former Rhode Island Secretary of State, led the conversation with Daniel Castro, Vice President and Director of the Center for Data Innovation at the Information Technology and Innovation Foundation. The over 60 elected officials in attendance from across the country had the opportunity to learn the basic premises underlying block chain technology. Castro also provided current and prospective uses along with possible limitations of use in the public sector.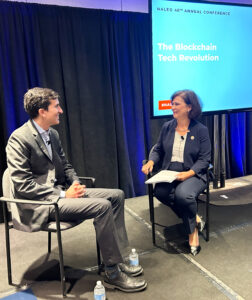 "As elected officials, we have the responsibility to understand evolving technologies in the private sector and how they might affect our constituents," said Gorbea. "Blockchain technology has started to be used in the private sector as an alternative form of currency and for authentication purposes." She continued, "this session gave NALEO members, who represent municipalities, counties and state jurisdictions across our country, the opportunity to better understand blockchain technology. It also provided them with additional sources of information available to inform public sector regulatory structures needed as well as possible operational uses."
"Public service provides few opportunities for professional development. NALEO's annual conference is one of the few spaces providing Latino elected leaders with those learning opportunities," said Gorbea, who has also served as NALEO Board member for six years. "The Latino community in the United States is young and also rapidly growing," she added. "Advances like blockchain technology are bound to have an impact on our community's economic and civic life. This session helps Latino officials know what questions need to be addressed to be effective leaders in this new technology policy space."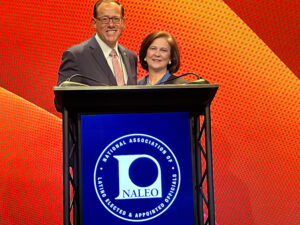 Gorbea also served as emcee at the plenary session, "Financial Outlook in the Global Economy," with former New Mexico The session was hosted by Eric Van Nostrand, Acting Assistant Secretary of Economic Policy at the U.S. Treasury, Michael Gapen, Managing Director and Head of U.S. Economics at Bank of America, and Texas State Representative Rafael Anchía.
The National Association of Latino Elected and Appointed Officials is the nonpartisan leadership organization of the more than 7,000 Latino appointed and elected officials.