Fellow Spotlight: G. Wayne Miller
G. Wayne Miller, Pell Center visiting fellow and Story in the Public in the Square director, is a storyteller in his own right.
A staff writer for The Providence Journal,  Miller shares powerful accounts of individuals, families and loved ones affected by mental health issues and serves as an advocate for mental healthcare reform throughout Rhode Island and in the United States. Miller has also published several books, including Toy Wars: The Epic Struggle Between G.I. Joe, Barbie and the Companies That Make Them (Random House/Times Books, 1998), King of Hearts: The True Story of the Maverick Who Pioneered Open Heart Surgery (Random House/Times Books, 2000), and An Uncommon Man: The Life and Times of Senator Claiborne Pell (University Press of New England, 2011).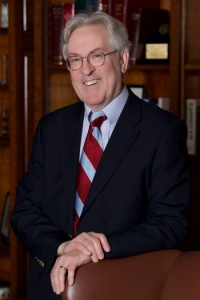 Over the course of your writing career, you've published an extensive body of work. Your portfolio consists of reporting, feature writing, fiction and non-fiction, but what's most impressive is the diversity of subjects you write about. What draws you to cover a particular subject?
First and foremost, people and their stories. I am compelled by stories of people who take journeys, who take risks, who experience love and loss, who endure, who are honest and loyal, who surprise themselves and others, who prevail despite conflict, who give back to the world, who inspire the rest of us with their courage, wisdom and tenacity. I love writing about kids, these wonderful new people who still believe in magic. I must say, however, that I am not big into villains. I guess I remain an optimist after all these years. Hard to sometimes, looking at what's happening on and to the planet, but I still do.
After people, themes. I have a great interest in public-policy issues—and "public," of course, is people. When I can marry a good people story to an important issue—well, doesn't get much better than that. My all-time favorite newspaper story remains "The Growing Season," a 12-part series in The Providence Journal about the late Frank Beazley, who spent most of his adult life as a quadriplegic at Zambarano state hospital. Here was a man who had every right to be bitter and broken, and yet he became a celebrated artist, a champion of people with disabilities, and an inspiration to us all. He raised awareness of a critical public-policy issue — how we care for the most fragile members of society—in a way few others could have. Ask anyone who saw him at General Assembly hearings or the former governors who paid him visits. I was honored and humbled to become his friend, and give him a voice in the media.
You've won nearly 50 honors and awards—most recently, the Bell of Hope Mental Health Heroes Award from the Mental Health Association of Rhode Island. In your opinion, to what extent can the power of narrative shape the public dialogue on issues like mental health?
It can have a significant effect, in a way that statistics and data can't, not that those aren't important, too. This gets back to people. Humans are hard-wired to have an interest in others, so when you tell someone's story — at least, when you tell it right — you command attention. And, in writing about people living with mental illness, you evoke empathy and compassion, which hopefully can lead to better understanding of an often-misunderstood issue, which in turn can lead to lessening of stigma and public policy change.
My most recent writing about mental health, part of a continuing Providence Journal series, was a three-part look at a woman living with bipolar disorder and her family. I chose the title, "Katie's Story," quite deliberately: the hope was that readers would see it and be drawn in by the intimacy of using a first name, and the prospect of reading a story. Since our cave-day ancestors gathered around the fire, people have loved stories!
In their remarks at the State House Bell of Hope ceremony, Elizabeth H. Roberts, secretary of the Executive Office of Health and Human Services, and Maria Montanaro, director or the state department of Behavioral Healthcare, Developmental Disabilities and Hospitals, thanked me for writing "Katie's Story," noting that it was a moving reminder of the people in their care—and the improvements needed in a fragmented and underfunded system. They are executives in positions of power to make it happen. Here's hoping.
In addition to writing, you've been successful as a film maker. Coming Home (2011), a documentary that explores the experience of veterans who fought The War on Terror in the Middle East, won the Edward R. Murrow Award from the Radio Television Digital News Association and was nominated for outstanding documentary at the 35th annual New England Emmy Awards. How does your experience as a writer complement your film making?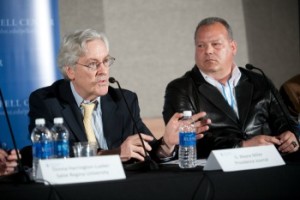 The key things in the writer's toolbox—the need to observe, listen, question, research, understand, etc.—were invaluable when I got into film. I quickly learned that writing and film are two sides of the same storytelling coin. Text or moving image, you're dead in the water without a good story.
In your experience, what ways are writing and film making similar? In what ways are they different?
Only difference is that one relies on words, the other more on images… Okay, there are other differences, but they are mostly technical. Writing is pretty much a solitary deal, filmmaking a collaborative effort. A pen and paper, or screen and computer, are all a writer needs; filmmakers must have the right equipment with knowledgeable operators. Editors are critical to both writing and film.
One of your books, The Uncommon Man, is an extensive biography of the late Senator Claiborne deBorda Pell, Rhode Island's longest serving senator. It happens that the National Endowment of Humanities, one of the senator's lasting legacies in the United States, is celebrating its 20th anniversary. What do you believe is the greatest legacy Senator Pell left for Rhode Island and the nation?
In a direct, concrete way: the Pell Grants. More broadly, his devotion to the public discourse and his belief that we all have a civic duty that we should exercise. These are principles incorporated in the Pell Center, needless to say.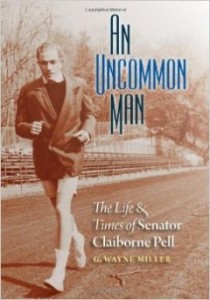 There have been many changes in the media landscape since the beginning of your career to present. Despite your workload and community involvement, how have you managed to adapt to those changes?
It helps that I get up very early—a habit that began years ago when my children were young, and I wanted to devote time to them as their days began. So the pre-dawn hours are critical to the thing dearest to my heart, after my wife and family: my writing.
In general, I have adapted by being flexible; by welcoming new ideas and formats such as social media; by never forgetting how lucky I have been to have supportive publishers and editors from the very start; and by always remembering that at the end of the day, literally and figuratively, we all love a good story.
Miller's next book, Car Crazy: The Battle for Supremacy Between Ford and Olds and the Dawn of the Automobile Age, will be released November 2015 and is now available to pre-order. Connect with Miller on Twitter and LinkedIn.