[vc_row full_width="" parallax="" parallax_image=""][vc_column width="1/2″][vc_column_text]
2014 Grand Prize Winner
Ian Steller won the 2014 grand prize for his submission titled "Inner City in Contrast."[/vc_column_text][vc_video link="https://www.youtube.com/watch?v=SO83u5i2Rvs"][/vc_column][vc_column width="1/2″][vc_column_text]
2014 Honorable Mention
Marissa Alfiero won a 2014 honorable mention for her submission titled "A Child Beneath the Shade."[/vc_column_text][vc_video link="https://www.youtube.com/watch?v=kMovOLkbwlY"][/vc_column][/vc_row][vc_row full_width="" parallax="" parallax_image=""][vc_column width="1/1″][vc_column_text]For the second annual Story in the Public Square student contest, the Pell Center and The Providence Journal challenged high school and college students to produce a short video, film or animation that would enlighten viewers about childhood poverty and move people to take action individually, collectively or through public policymakers.
Using U.S. Census Bureau data, national advocacy group Kids Count estimates that 23 percent of American children live in poverty today.
Members of the Story Board served as judges. Entries were received from as far away as Pennsylvania, and each was worthy of recognition. "I felt that all the contestants were sincere and I'd like to extend our congratulations to all of them for addressing this important topic in their own ways," said contest judge Padma Venkatraman.
Winners were honored during the 2014 Story Day conference "Moving Images: Storytelling on Screen."
Grand prize winner
Ian Steller: "Inner City in Contrast"
A junior at the Wheeler School, Ian is a lifelong resident of Providence. He became interested in film at a young age, delving into topics such as the histories of Providence's Fox Point neighborhood and the city of Pittsfield, Mass. in earlier projects. Ian's interests lie at the intersection of oral history, urban studies and documentary filmmaking. Apart from film, he is an avid distance runner, reader of novels, fisherman and student. His mission is to continue to pursue film projects that expose issues of social justice as a way of enacting change.
Honorable mention
Marissa Alfiero: "A Child Beneath the Shade"
A ninth-grade student at Chariho High School in Richmond, R.I., Marissa partakes in the forgotten art of dabbling. Besides being an avid member of many after-school extracurriculars, she is a forward on her school's field hockey team and enjoys running in the woods. While on these runs, Marissa listens to music, something she cares a great deal for. Aside from this, she passionately consumes all varieties of texts, and even seeks out a keyboard in order try her hand at writing original novels, plays and poetry. Marissa is very involved in theater and science. She participated in this year's Poetry Out Loud contest and the Shakespeare Speaks competition and is a member of her school's drama club. Her interest in science is nurtured by entering Rhode Island's Science Olympiad (in a previous year and this year).[/vc_column_text][/vc_column][/vc_row][vc_row full_width="" parallax="" parallax_image=""][vc_column width="1/1″][vc_column_text]
2013 WINNERS
In 2013, the Pell Center and The Providence Journal challenged undergraduate college students to write a story that could inspire public action around an issue important to military veterans.[/vc_column_text][/vc_column][/vc_row][vc_row full_width="" parallax="" parallax_image="" el_id=""][vc_column width="1/1″][vc_column_text]
Grand Prize: Sophie Zander
Sophie Zander, Ursinus College
Zander is double majoring in English and politics with a minor in environmental studies. In addition to interning at the HIV/AIDS Legal Centre in Sydney, Australia, as part of her semester-abroad experience, her on-campus involvements include serving as the Ursinus pre-legal studies intern; vice president of the Haines-Barnard Pre-Law Society; on the Journal of Political Science and International Relations editorial boards; and with the National Model United Nations committee. Zander has served on the Lantern Literary editorial board and written for the Grizzly newspaper. She will intern in Washington, D.C., this summer, facilitated by her selection as a Whitman Summer Scholar, working to address public policy issues. Zander has a dual interest in addressing social injustice and a passion for writing that she hopes will both serve to make a positive impact someday.[/vc_column_text][vc_column_text]
Honorable Mention: Ron Farina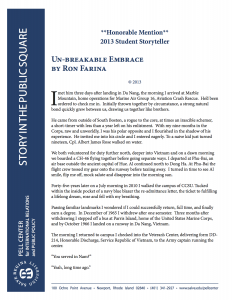 "Un-breakable Embrace"
Ron Farina, Central Connecticut State University
Farina first attended Central Connecticut State in 1965 before joining the Marine Corps and serving in Vietnam in 1966 and 1967. After a successful career as a national corporate headhunter and president/owner of Management Search, he returned to Central Connecticut State to fulfill a lifetime goal of earning a college degree. Farina is a creative nonfiction major and music minor. He has published two essays on Vietnam: "Jerry Winn, A Vietnam Odyssey" and "A Keyhole," published in the anthology "In-Country and Back." Excerpts from "A Keyhole" were featured on NPR with John Dankowski. Farina is currently working on a memoir, "Full Time, A Vietnam Veteran's Experience Returning to College."[/vc_column_text][vc_column_text]
Honorable Mention: Madelin Schlenz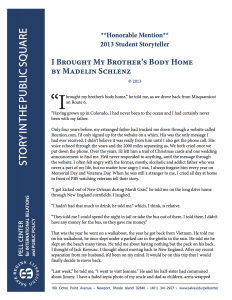 "I Brought my Brother's Body Home"
Madelin Schlenz, Community College of Rhode Island
Schlenz plans to transfer to Rhode Island College this fall to pursue bachelor's degrees in education and English. She began her degree at the Metropolitan State University of Denver while working full-time as an administrative assistant and customer service representative at the Denver Museum of Nature and Science. Schlenz recently relocated to Rhode Island to be closer to her family. She currently works part time at the Boys and Girls Club of Cumberland and hopes to eventually pursue a master's degree in expressive arts therapy.[/vc_column_text][/vc_column][/vc_row]