The at-large Story Board collaborates with the Pell Center's leadership on the development of the Story in the Public Square initiative. Story Board members advise the program's directors, judge contests and mentor students. Members are encouraged to contribute their own writings, still and moving images, and other expressions to www.publicstory.org and other Story in the Public Square forums.
Members of the Board of Governors serve as ex-officio members of the Story Board: Karen Bordeleau, Elizabeth Burke Bryant, Judy and Laurence Cutler, Jim Ludes, G. Wayne Miller, Lorén Spears and Bob Whitcomb.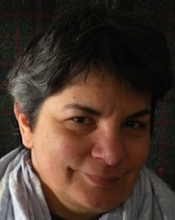 Dorothy Abram
WRITER AND ASSOCIATE PROFESSOR OF SOCIAL SCIENCES AT JOHNSON & WALES UNIVERSITY
Abram is a playwright and associate professor in the social sciences department at Johnson & Wales University. Working with recently arrived refugees, she established the AWARE Alliance Refugee Theatre to articulate the personal, social, historical and global concerns of human rights and refugee experiences. Abram's work focuses on the crises, challenges, survival and strengths of our refugee communities. Her plays have been performed in Providence, Boston, New York and India. She is co-convener of the United Nations NGO subcommittee on immigrant and refugee mental health.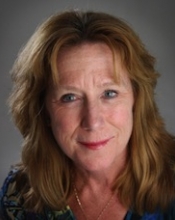 Susan Areson
FORMER DEPUTY EXECUTIVE EDITOR OF THE PROVIDENCE JOURNAL
Areson helped direct daily and project coverage for print and online. From 1986 to her retirement in 2016, she served in many editorial roles, including metropolitan managing editor, city editor and Sunday editor. Among the many projects Areson worked on are the "Pension Puzzle" series; the "Price of Miracles" series about premature babies; the Pulitzer-finalist Station Fire coverage in 2003; and the award-winning 2015 series, Race in Rhode Island." She was among the editing staff that worked on the corruption stories that won the Journal a Pulitzer Prize in 1994.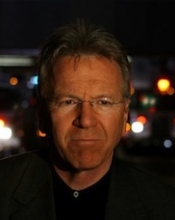 David Boeri
SENIOR REPORTER, WBUR 90.9, BOSTON'S NPR NEWS STATION
Boeri is the 2012 recipient of the national Edward R. Murrow award for investigative journalism, the New England Edward R. Murrow award for investigative journalism, the New England Associated Press award for hard news reporting and the ACLU "Defender of Freedom" award. He has won 25 national, regional and local awards, most notably for his three decades of investigative reporting on the FBI and its corrupt relationship with James "Whitey" Bulger. Boeri is the author of the e-book "Bulger on Trial: Boston's Most Notorious Gangster and The Pursuit of Justice," published in November 2013.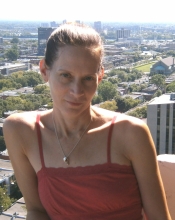 Karen Lee Boren
WRITER AND PROFESSOR OF ENGLISH AND CREATIVE WRITING AT RHODE ISLAND COLLEGE
Boren writes both fiction and nonfiction. Her novel "Girls in Peril" was the premiere publication for Tin House Books' New Voices series and a Barnes & Noble Discover selection, and her novel "Month of Fire" was a finalist in the 2013 New American Press book contest. Boren's fiction and nonfiction stories have appeared in journals and anthologies such as WomenArts Journal, The Florida Review, Night Train, Karamu, New South, Hawaii Pacific Review, Dominion Review, Yemassee, Epoch, Cream City Review, BookForum, Fourth Genre, Rites of Passage: Backpacking 'Round Europe and the Best of Lonely Planet's Travel Writing. Online, her work can be found at Gadling, Night Train, South85 and the Santa Fe Writers Project.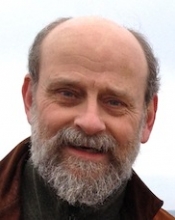 Christopher B. Daly
ASSOCIATE PROFESSOR OF JOURNALISM AT BOSTON UNIVERSITY
Daly is a veteran journalist, author, editor, scholar, lecturer and teacher. His latest book, "Covering America: A Narrative History of a Nation's Journalism," won the 2012 PROSE Award for the best book in media and cultural studies. Daly worked as the statehouse bureau chief for the Associated Press in Boston, covering politics and government during the 1980s. He then served as the New England correspondent for The Washington Post and has written many freelance articles and reviews for scholarly journals, newspapers, magazines and websites. Daly has been teaching at Boston University since 1997.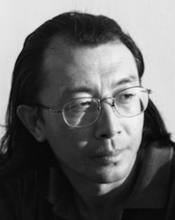 Xue Di
POET AND FELLOW IN BROWN UNIVERSITY'S FREEDOM TO WRITE PROGRAM
Born in Beijing in 1957, Di has authored three volumes of collected works and one book of criticism on contemporary Chinese poetry in Chinese. In English translation, he has published four full-length books – "Across Borders," "Another Kind of Tenderness," "An Ordinary Day" and "Heart into Soil" – and four chapbooks – "Forgive," Cat's Eye in a Splintered Mirror," "Circumstances" and "Flames." Di's work has appeared in numerous American journals and anthologies and has been translated into several languages. He is a two-time recipient of the Hellman/Hammett Award, sponsored by Human Rights Watch, and a recipient of the Lannan Foundation Fellowship.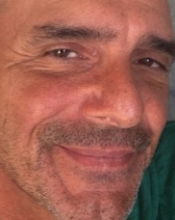 Steven F. Forleo
ENGLISH PROFESSOR AT THE COMMUNITY COLLEGE OF RHODE ISLAND AND FACULTY ADVISER FOR THE STUDENT PAPER THE UNFILTERED LENS
Forleo began his theatrical career in New York with The Actors Studio, writing, directing and acting in various projects. When Hollywood beckoned, he relocated to Los Angeles, where he worked in film and television. While teaching at California State University, Los Angeles, Forleo served as a west coast assistant editor for Theatre Journal and also reviewed theater for the Los Angeles Reader. He currently teaches writing, literature and film at the Community College of Rhode Island. In 2007, Forleo and a core group of students founded the college newspaper, The Unfiltered Lens. He continues to advise the newspaper staff.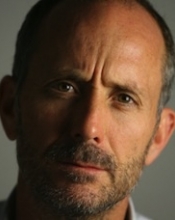 John Freidah
PHOTOJOURNALIST, DOCUMENTARY FILMMAKER AND MULTIMEDIA PRODUCER AT THE MASSACHUSETTS INSTITUTE OF TECHNOLOGY'S DEPARTMENT OF MECHANICAL ENGINEERING
Freidah has worked as a professional photojournalist for more than 20 years, documenting the important issues and stories of our time. His photos have appeared in National Geographic, Time magazine, Newsweek, the New York Times and on ABC's Nightline. Freidah has lectured nationally and internationally, addressing such organizations as the Danish Union of Press Photographers, the Norwegian Press Photographers Association, the Atlanta Photojournalism Seminar and the National Press Photographers Association. His 2011 documentary "Coming Home," which looks at the challenges faced by local soldiers who return from the battlefield with symptoms of post-traumatic stress disorder, aired on PBS stations across the nation.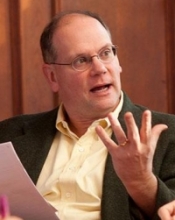 Robert B. Hackey
PROFESSOR OF HEALTH POLICY AND MANAGEMENT AT PROVIDENCE COLLEGE
Hackey is the author of "Cries of Crisis: Rethinking the Health Care Debate," "The New Politics of State Health Policy" and "Rethinking Health Care Policy: The New Politics of State Regulation," co-edited with David Rochefort. His articles on health care reform, hospital regulation and certificate-of-need laws have appeared in the Journal of Economic Issues, the Journal of Health Politics, Policy and Law, the Journal of Trauma and Medical Care Review, among others. In 2008, Hackey was recognized as professor of the year for the state of Rhode Island by the Carnegie/CASE U.S. Professors of the Year Program. His areas of expertise include health care reform at state and national levels, health care in popular culture, public opinion and health care, language and public policy/problem definition.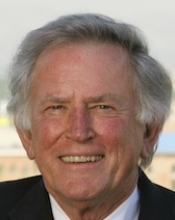 Gary Hart
HUFFINGTON POST BLOGGER, AUTHOR, CONSULTANT AND FORMER U.S. SENATOR
Since retiring from the Senate, Hart has been extensively involved in international law and business, as a strategic advisor to major U.S. corporations, and as a teacher, author and lecturer. He is chair of the Threat Reduction Advisory Council at the Department of Defense, was vice-chair of the Secretary of Homeland Security's Advisory Council, chair of the American Security Project, and co-chair of the US-Russia Commission. Hart represented Colorado in the Senate from 1975-1987, playing a leadership role in major environmental and conservation legislation, military reform initiatives, new initiatives to advance the information revolution and new directions in foreign policy.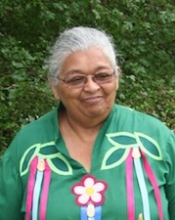 Paulla Dove Jennings
NIANTIC NARRAGANSETT TRADITIONAL STORYTELLER, ORAL HISTORIAN AND AUTHOR
Jennings, also known as Sunflower, is a storyteller, oral historian, educator, Narragansett Tribe elder and, since 1989, curator of the Tomaquag Indian Memorial Museum in Exeter, R.I. She is the author of the book "Strawberry Thanksgiving" and several other publications such as "Common Ground, Objects of Life" and "Hope, Fear and Rock'n'Roll: Rhode Island in the Post-War Decades." Jennings has performed and lectured across the United States. She served as the last commissioner of Indian affairs for the state of Rhode Island and is a former member of the Narragansett Tribal Council and Economic Development Commission.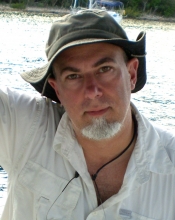 DJ Johnson
ASSISTANT PROFESSOR OF GAME DEVELOPMENT AND SIMULATION AT NEW ENGLAND INSTITUTE OF TECHNOLOGY
Johnson describes himself as "an electronic storyteller," expert in a contemporary story form. Above all, his is a career marked by the enthusiastic infection of others to the craft of video, multimedia, animation and game development. In the future, Johnson hopes to expand the craft of serious games.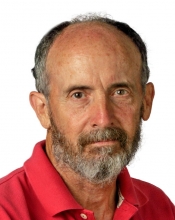 Bob Kerr
FORMER COLUMNIST FOR THE PROVIDENCE JOURNAL
Kerr is a former local columnist for the Providence Journal, where he worked for 43 years. He worked previously at the Detroit Free Press and the Charlotte Observer. A graduate of Hamilton College, Kerr served as a Marine combat correspondent in Vietnam.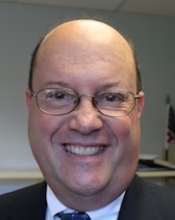 Steve Klamkin
RADIO NEWS JOURNALIST, 630 AM AND 99.7 FM WPRO
Klamkin is a radio news reporter who tells most of his stories in 40 seconds or less for WPRO in Providence.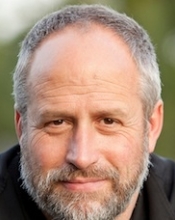 John Lavall
DOCUMENTARY FILMMAKER
An Emmy Award-winning producer and director, Lavall started Devlo Media in 1997. His work has been broadcast nationally on PBS and his documentary films have shown in festivals throughout the U.S. and internationally. Lavall recently directed and produced the award-winning documentary "Leh Wi Tok" (Let Us Talk). Acquired by the Al Jazeera network, the film won awards at the 2011 Cincinnati Film Festival, the 2011 Chagrin Falls Documentary Film Festival, the 2012 HDFEST, the 2012 New Hope Film Festival and the Rhode Island International Film Festival.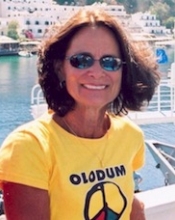 Judy Barrett Litoff
AUTHOR AND PROFESSOR OF HISTORY AT BRYANT UNIVERSITY
Litoff is the author of 14 books and more than 100 articles, book chapters and reviews in American women's history. She has written two pioneering books on American midwifery: "American Midwives, 1860 to the Present" and "The American Midwife Debate: A Sourcebook on its Modern Origins." Over the last two decades, Litoff has focused her research and writing on American women and World War II, including a nationwide search for women's correspondence that resulted in an archive of 30,000 wartime letters written by American women. She has lectured in the United States, England, Estonia, Belarus, Ukraine, the Republic of Georgia, Russia and China.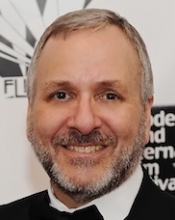 George T. Marshall
FOUNDER AND EXECUTIVE DIRECTOR OF THE R.I. INTERNATIONAL FILM FESTIVAL AND ADJUNCT PROFESSOR OF COMMUNICATIONS AND FILM AT ROGER WILLIAMS UNIVERSITY
Marshall is the founder and executive director of the Flickers Arts Collaborative, a nonprofit organization with 31 years of experience producing programming and creative outlets for filmmakers and visual/ performing artists. In addition to producing the internationally recognized Rhode Island International Film Festival, his production and multimedia work as a producer, director and writer have won four New England Emmy awards, four national Telly awards, top prizes at WorldFest Houston and three national Communicator Awards for Excellence. Marshall is a frequent contributor, adjudicator and participant on industry panels and seminars exploring the evolution, culture, growth and future of independent film and media literacy.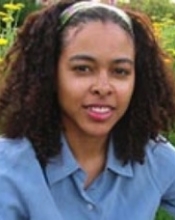 Kendall Moore
AWARD-WINNING FILMMAKER AND ASSOCIATE PROFESSOR OF JOURNALISM AND FILM MEDIA AT THE UNIVERSITY OF RHODE ISLAND
Moore was previously a producer and reporter with ABC News/Discovery Health and the Discovery Channel and a Reuters health and medical reporter.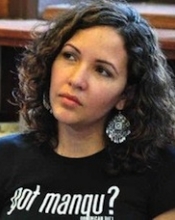 Sussy Santana
POET AND PERFORMANCE ARTIST
Born in the Dominican Republic, Santana is the author of "Pelo Bueno y otros poemas," a poetry collection inspired by the duality of the immigrant experience. Her poems have been published in several literary magazines and web publications, including A la garáta con puño by the University of Mexico and Camino Real Magazine. Santana's recent work includes RADIO ESL, a poetry CD. In her performances, she gives life to La Poetera, a street "marchanta" who serves as a narrator for civil and economic injustices. Santana is a member of Las Tenoras, a feminist collective exploring the Latina experience in the United States.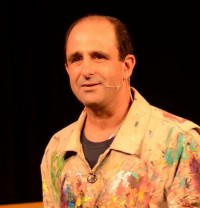 Jeff Sparr
ARTIST, STORYTELLER AND FOUNDER OF THE PEACELOVE STUDIOS
Jeff Sparr is an artist, storyteller and founder of the PeaceLove Studios, a national group based in Pawtucket, R.I., that helps people create peace of mind through expressive arts and a symbol of hope. Jeff is on what he describes as an "audacious" mission, one that aspires to make mental illness cool — not to have, but to support. A family man, mental-health advocate, teacher and self-taught critically acclaimed artist, Jeff is above all a survivor, battling Obsessive Compulsive Disorder (OCD) much of his life.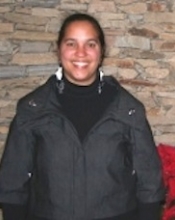 Lorén Spears
STORYTELLER, EDUCATOR AND EXECUTIVE DIRECTOR OF THE TOMAQUAG INDIAN MEMORIAL MUSEUM
A member of the Narragansett Indian Tribe, Spears was a Narragansett tribunal judge, served on the tribal council, led the youth council and established the youth art show. She spent 14 years teaching underserved youth in Rhode Island public schools and was the recipient of the Feinstein Salute to Teacher's Teacher of the Month Award. Spears is the founder of the Nuweetooun School at Tomaquag Museum and led the school for seven years. She continues to develop strong partnerships with other community organizations to educate the public regarding native history, culture and the arts.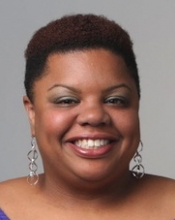 Alisha Pina Thounsavath
STAFF WRITER AND COLUMNIST AT THE PROVIDENCE JOURNAL
Pina has worked at the Journal since she was 16 and is currently a staff writer who covers Providence's politics, financial troubles, neighborhood beefs, inspirational people and anything else she can uncover. She describes her style of writing as "daring, creative, complete and informative." Pina says she can't see life without being a reporter and lives by the motto, "Life is drawing without an eraser." She has received several awards during her career, including first place nods from the Rhode Island Press Association and a Media Achievement Award of Excellence from the American & Cape Verdean Cultural Exchange Commission of Rhode Island.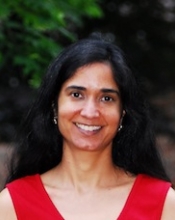 Padma Venkatraman
AUTHOR AND INSTRUCTOR AT THE UNIVERSITY OF RHODE ISLAND'S GRADUATE SCHOOL OF OCEANOGRAPHY
Venkatraman is the author of two critically acclaimed young adult novels: "Climbing the Stairs" and "Island's End." Both were released to starred reviews and won several honors and multiple awards. Scheduled for release in May 2014, her third novel, "A Time to Dance," is written in verse and has received advance praise from national book award winner Gloria Whelan. Venkatraman's work was featured in the film "Library of the Early Mind" and she has been invited to speak at several venues, including Harvard University and the PEN world voices festival.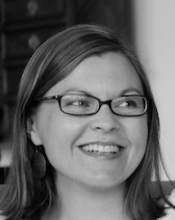 Karen Walker
NOVELIST
Walker is the author of the New York Times bestselling novel "The Age of Miracles," which has been translated into 29 languages and was a finalist for the Barnes & Noble Discover Award, an Indies Choice Award and a Goodreads Choice Award. It was named one of the best books of the year by People, O: The Oprah Magazine, The Financial Times, Kirkus and Publishers Weekly. A former book editor at Simon & Schuster, Walker's writing has appeared in the Wall Street Journal and Real Simple, and she gave a TED talk at the 2012 TEDGlobal conference in Edinburgh, Scotland.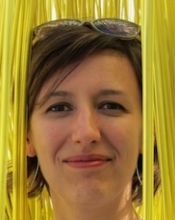 Agnieszka Woznicka
ANIMATION ARTIST AND ASSOCIATE PROFESSOR AT THE RHODE ISLAND SCHOOL OF DESIGN
An independent animator, artist and teacher, Woznicka graduated from the National School of Film, Television and Theatre in Lodz, Poland. Her artistic practice encompasses traditional and experimental animation, with the main focus being stop-motion, and her work explores the themes of identity, social alienation and the human condition. Woznicka's aesthetic sensibility, deeply rooted in the Eastern-European tradition of animation art, film and puppetry, is characterized by meticulous handcraftsmanship, darkly poetic imagery and use of natural and found materials. Her films have been shown and recognized at numerous international film and animation festivals.