An Oral History Project of Senator Claiborne Pell
The Pell Center for International Relations and Public Policy has recently begun an oral history project looking to explore the legislative methodology of US Senator Claiborne Pell. For "Ideas Into Actions: An Oral History Project of Senator Claiborne Pell," we are gathering the narratives and personal stories of those who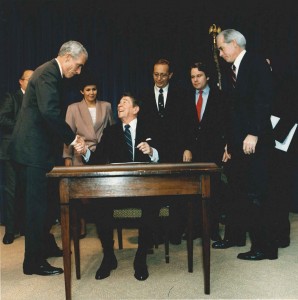 worked with Pell during his six terms as United States Senator. While there is much written about Pell's life and legacy, the story of his legislative career has not received necessary historical study.
At the core of this project is analyzing how Pell's unique legislative style contributed to the passing of such legislation as the Basic Educational Opportunity Grants, now recognized as the Pell Grants, the Intermediate-Range Nuclear Forces Treaty of 1988, and the FREEDOM support act (1992), among other examples. Given Senator Pell's long-tenure in the Senate, having been first elected in 1960, some of his earlier legislative accomplishments, such as the National Endowment for the Arts and the National Endowment for the Humanities, cannot be addressed due to the simple passage of time and the loss of contemporaries who worked with Senator Pell in the mid-1960s.
Still, the project, through oral histories with those involved, will explore the struggles and successes of Pell's legislative career with the hope of bringing insight to today's challenges.
*Image depicts Senator Pell shaking hands with President Ronald Reagan at a signing ceremony.