The Nuala Pell Leadership Program provides leadership development opportunities to a select group of diverse, high-achieving undergraduate students at Salve Regina, exposing them to both the theory and practice of leadership. Named in honor of the late Nuala Pell, wife of Sen. Claiborne Pell and an avid supporter of public service, the program aims to build leadership skills that can be used in the classroom and beyond.
As part of this eight-month program, students participate in facilitated discussions on leadership topics like emotional intelligence and stakeholder mapping and engagement. The fellows also visit with accomplished leaders from the public and private sectors who share practical real-world lessons from their own lives.  The fellowship year culminates with a all-expenses paid visit to Washington D.C. to meet with national and local leaders and visit prominent national landmarks.
To be eligible for the program, the student:
Will be a junior or senior in the upcoming academic year.
Is interested in or intends to enter the public sector upon graduation, or after completing graduate studies. Public service includes any position for which the employee is paid by taxpayers and can include public art, health, finance, education, safety, and government, among others. This interest can extend beyond work, however, and can include volunteer commitments and local political engagement, among other things.
Is committed to this eight-month program and is available to attend monthly meetings between 6pm-7:30pm.
To learn more about the program, email Kathryn Langford.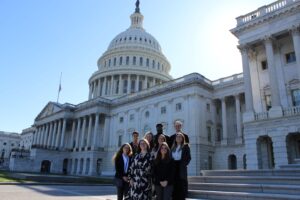 Student Testimonies
"he Nuala Pell Leadership trip to Washington, DC was the opportunity of a lifetime. It was truly inspiring to hear leadership advice and success stories from such influential people. I have a much deeper understanding of what it takes to be an effective leader . . ." Devin Smith, Class of 2018
"Having the opportunity to meet the incredibly successful and experienced individuals we did was just the inspiration I needed." Alessio Ayuninjam, Class of 2018
"Every person we met was driven by a goal to make the world a better place and they all carried that out in different ways. I think this is one of the hallmarks of Claiborne and Nuala Pell; they were leaders with a drive to do good . . . ." Evie O'Callaghan, Class of 2019
"I learned overall, leadership comes in so many different forms, shapes, and sizes. No one person has the ultimate answer to how to be a leader but there are a lot of techniques . . . ." Brian Schmidt, Class of 2019.