*All tickets have been reserved at this time, please add your name to the wait list and you will be notified if a seat opens.
Filmmaker Daphne Matziaraki, whose documentary about the European refugee crisis was nominated for an Academy Award, has been named the 2017 recipient of the Pell Center Prize for Story in the Public Square. The prize, awarded annually since 2013, honors a storyteller whose work has significantly influenced the public dialogue.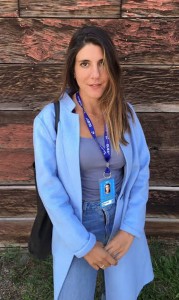 Matziaraki will receive the 2017 prize, conferred by the Story in the Public Square program at Salve Regina University's Pell Center for International Relations and Public Policy, during a ceremony the evening of Monday, June 5, 2017.
Directed by Matziaraki, the short documentary "4.1 Miles" depicts a Hellenic Coast Guard captain and crew from the island of Lesbos who, against odds, undertake many missions to attempt to save thousands of children, women and men who are attempting to cross the Aegean Sea to Greece as the European migrant crisis unfolds. Shot in the tradition of cinéma vérité, its cinematography and graphic presentation of life-and-death drama distinguish it.
A native of Greece, Matziaraki, 35, holds a bachelor's degree in politics and sociology from the University of Bristol, United Kingdom; a master's in international relations from the University of Bristol; and a masters in journalism (documentary filmmaking) from the University of California, Berkeley.
Learn more about Daphne and "4.1 Miles" at www.daphnematziaraki.com.
Related Posts