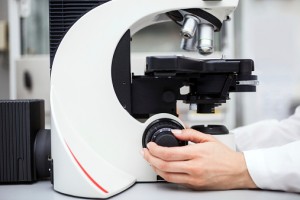 On Wednesday, Mar. 4, the Pell Center will host a panel of speakers to address questions about the role of science in public decision-making in the United States. The panel discussion will be held at 7:00 p.m. in Bazarsky Lecture Hall in O'Hare Academic Center.
Historically, the U.S. has been on the cutting edge of science – a practical society that leads the world in innovation and technology development. But while science is still relevant to many of the most important questions we face as a nation – from combatting disease to providing for our energy needs to figuring out how to grow enough food to feed a rising population – there are always other factors, such as political or economic calculations, that figure in our decision-making in these areas. Furthermore, it is not clear how Americans today feel about science and scientists. A recent article in the New York Review of Books argues that while we tend to trust and value scientific findings in principle, we're willing to throw out scientific perspectives if they clash with economic interests, or with religious views, or simply if they make imperfect predictions and therefore seem unreliable. As controversy about global warming shows, many Americans may even wonder whether scientists can be trusted.
Panel Members
Suzanne Shaw, Director of Communications, Union of Concerned Scientists
Todd Bianco, Principal Policy Associate, Rhode Island Public Utilities Commission
The discussion moderated by Pell Center Senior Fellow Joseph Grady, who will contribute additional perspectives on public dialog about the issue. Audience members will be encouraged to contribute questions and opinions. To register for this event, please visit the Pell Center's Eventbrite page.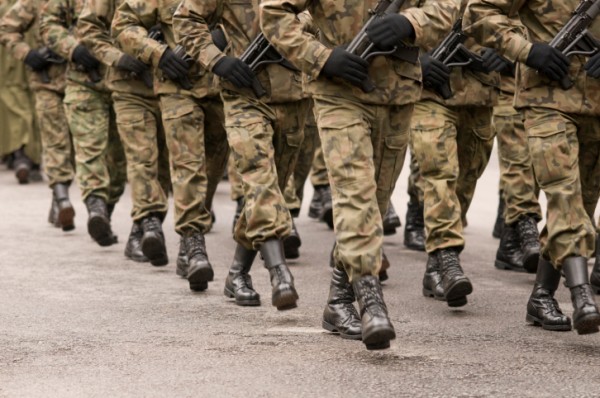 Teacher preparation and military training have striking similarities and share the same goal:  to develop leaders both in the classroom and in the military to execute the mission. Research and professional experience led to the identification of six shared lessons:  trust your training, be a battle buddy, be a leader, nurture yourself, steel your battle mind, and grab your lifeline.
Join us on Tuesday, Feb. 24 from 11:45 am – 12:45 pm in the Miley Private Dining Room to discuss how these lessons play a key role in preparing and supporting an "all-volunteer" teaching and military force.  The discussion will be led by Dr. Kathleen Vespia, Assistant Professor in the Education Dept and Dr. Tom Gibbons from the Naval War College.
Roundtable discussions are open to students, faculty and staff at Salve Regina University. The Pell Center will provide a free lunch. Space is limited. Please RSVP to [email protected].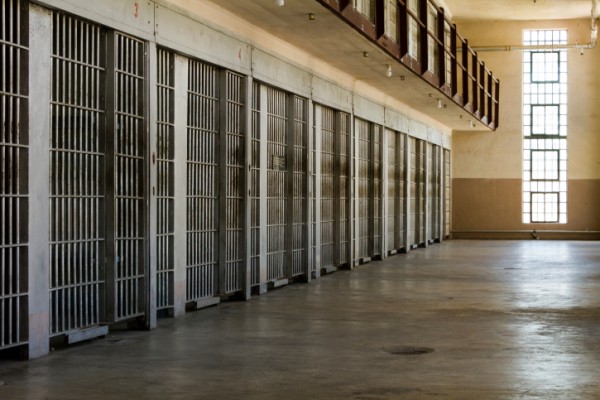 A report released this week by the Vera Institute of Justice finds that the majority of people being held in America's jails are the poor, those suffering from mental illness, and those with drug problems. Also, those in jail are being held, primarily, for minor offenses.
In Missouri, 15 people sued the city of Ferguson and the town of Jennings, alleging that jails there "operate as modern-day debtor's prisons."
Criminal justice reform was also in the spotlight on Capitol Hill where U. S. Senators John Cornyn (R-TX) and Sheldon Whitehouse (D-RI), reintroduced a bill aimed at reducing the size of the federal prison inmate population. In addition, a bipartisan coalition of U.S. senators introduced drug-sentencing legislation also aimed at reducing the federal prison populations. You can see Senator Cory Booker (D–NJ) speaking about the Smarter Sentencing Act on the Senate floor by clicking the C-SPAN link below.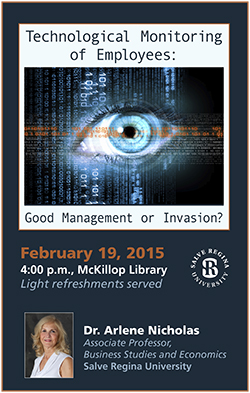 Dr. Arlene Nicholas, Pell Center Faculty Fellow and associate professor in the Department of Business Studies and Economics, will discuss "Technological Monitoring of Employees: Good Management or Invasion?" on Thursday, Feb. 19 at 4:00 pm in McKillop Library.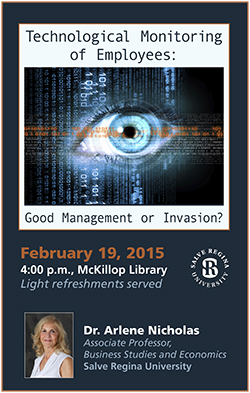 The mass explosion of technology has created an entirely new way for employees to be looked at by their employers. For some, everything from cameras to social media accounts has been monitored and even used as the reason for an employee's dismissal. Some laws do protect employees from certain forms of employer monitoring.  But are these practices an invasion of the employee's privacy or just good management practices for employers?
Light refreshments will be served following the presentation.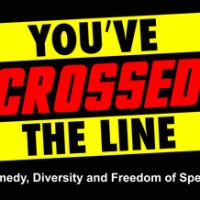 The Pell Center for International Relations and Public Policy is sponsoring an event on Wednesday, Feb. 25 during Salve Regina University's third annual Multicultural Education Week.
Featuring comedians of all persuasions, race, color, religion and scent, You've Crossed The Line is a competition show, that brings comedians and education to the forefront of civil rights and human rights efforts to address freedom of speech, equality and diversity. It is the brainchild of entertainer, producer, director and professor, Teja Arboleda, who's Telly-Award winning PBS documentary, Crossing The Line: Multiracial Comedians, produced a tremendous amount of stir in nationwide print, television, radio and new media.
You've Crossed The Line is free and open to the public. To read a full description of the event and learn more about You've Crossed The Line, please visit Entertaining Diversity Inc.'s website.
Multicultural Education Week begins on Monday, Feb. 23 through Friday, Feb. 27. Students, staff, faculty and community members are encouraged to attend and participate the activities planned for the week. Stay updated on the list of events on SalveToday's website.
In addition to the Pell Center, Multicultural Education Week is also sponsored by the Office of Multicultural Programs, Student Activities, Office of the Vice President of Student Affairs, Dean of Students Office, Athletics, Campus Life, Multicultural Student Organization, Student Empowerment, Student Government Association, Campus Activities Board and University Relations and Advancement.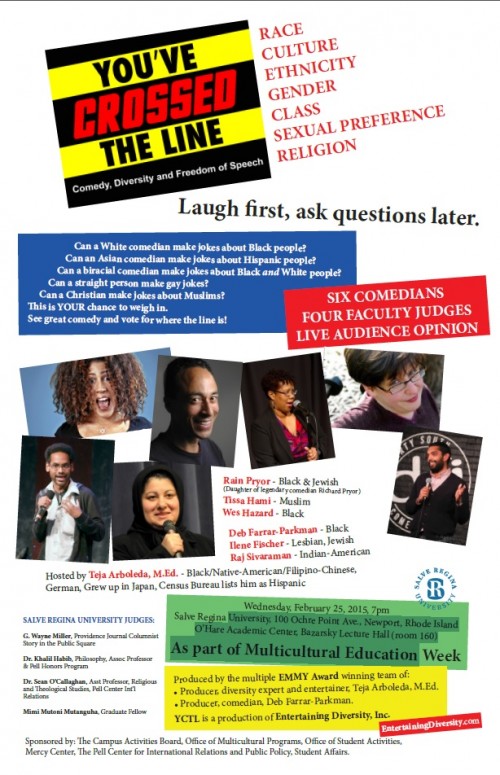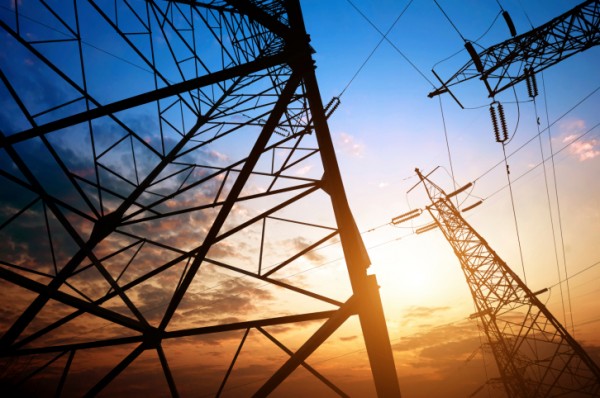 American Arms and the War in Ukraine
Russian engagement in Eastern Ukraine is deepening, and fears are rising that when the conflict will grow in the coming months.  In the United States, an influential Washington think-tank issued a report, calling for the provision of lethal assistance to Ukraine.  The report, authored by two former U.S. ambassadors, echoes deliberations within the U.S. government.  Critics of U.S. intervention were quick to pounce, noting that Russia is isolated politically, its economy in shambles, and that the current American strategy will produce results, but only over time and at considerably less risk of escalation.

This is an important and reasonable debate for Americans to engage.  Russia is still a nuclear armed country and its leaders see value in pursuing this conflict.  The idea that the United States should raise the cost for Russia by providing arms to Ukraine is troubling: Russia may be willing to go farther to prevail than the west.  In that case, the idea of raising the cost of conflict on Russia is silly.

But by that logic the United States and its allies should not have engaged in Ukraine in the last year.  Russia should have been left to pick the leader it wanted in Ukraine and decide the fate of Crimea.  The popular will of the Ukrainian people is secondary, in this world view, to the realpolitik of power.

I'm not a champion of intervention, but the people of Ukraine have decided to stand and fight.  If their will is broken by arms in Ukraine, then the expense of defending NATO members like Poland, Lithuania, Estonia, and Latvia will become immense—and urgent.

Give the people of Ukraine the tools they need to defend themselves. – Jim Ludes, Executive Director
The Gap Between Scientists and the Public and How They Think About Important Topics
Last week, the Associated Press reported on a study by the Pew Research Center, focusing on the huge divisions between what scientists think, vs. what average Americans think. According to the AP report, "98 percent of surveyed scientists say it's a problem that we don't know what they're talking about." Among the notable splits identified in the study were the following:

88 percent of the scientists surveyed said it is safe to eat genetically modified foods, while only 37 percent of the public say it is safe.
Eighty-seven percent of scientists said global warming is mostly due to human activity, while only half of the public did.
Nearly two-thirds of scientists favored building more nuclear power plants, but only 45 percent of the public did.

The question for the U.S. as a nation is how to reconcile public views with scientists' views, when so many critical domains of our life – energy, industry, health, agriculture, etc. – involve questions that science must help answer.

Perhaps surprisingly, the study did not identify a significant political dimension to the gap between scientists and the public. Some authors have written about a special antagonism between Republicans and scientists. (For instance, see New York Times blogger Frank Bruni's piece, "Republicans, Meet Science," from Nov. 4, 2014 or journalist Chris Mooney's book The Republican War On Science.) But in the study of Americans' attitudes overall, according to the study, "The gaps didn't correlate to any liberal-conservative split; the scientists at times take more traditionally conservative views and at times more liberal." Maybe it is the case that Republican leadership resists various science-based policies – for economic or ideological reasons – while Republican voters have roughly the same mix of perceptions (and misperceptions) shared by the rest of the country.- Joseph Grady, Senior Fellow for Public Policy
Trans-Pacific Partnership
A study released this week by the web-based media watchdog group, Media Matters for America, finds that weeknight television news shows have given very little coverage to the Trans-Pacific Partnership (TPP), a sweeping trade agreement being hashed out between 12 nations.

If you are not all that familiar with the TPP, you are not alone. Many Americans have no knowledge of the trade deal, in part because the negotiations and details are shrouded in secrecy.

The Pittsburgh Post-Gazette, in an article published this week, provides a good overview of the TPP with a focus on "fast-tracking" which would grant President Obama the authority to negotiate these trade agreements that Congress would quickly vote up or down without the opportunity to amend and without input from the public.

Critics see the TPP leading to even more outsourcing of American jobs, infringement on internet freedoms, and patents on pharmaceuticals delaying the cheaper generic versions of drugs, among other issues.

The Washington Post editorial board explains why they think that the concerns of the critics are overblown in an article also published this week.- Carolyn Deady, Fellow for Global Challenges
Education is a crucial aspect of a nation's identity and development. However, not all educational systems are the same. Join us on Friday, February 13 in Miley's Private Dining Room to discuss "International Approaches to Education" lead by Romina Fetta and Christelle Miskizak. Fetta is Salve's 2014-2015 Fulbright FLTA from Argentina and Miskizak is Salve's 2014-2015 Fulbright FLTA from France. They will present their countries' approaches to education with an emphasis on higher education and facilitate a discussion to follow. Both currently teach in the Department of Modern Languages and live and facilitate Salve's Language House located at Carnlough Cottage.
Roundtable discussions are open to students, faculty and staff at Salve Regina University. The Pell Center will provide a free lunch. Space is limited. Please RSVP to [email protected].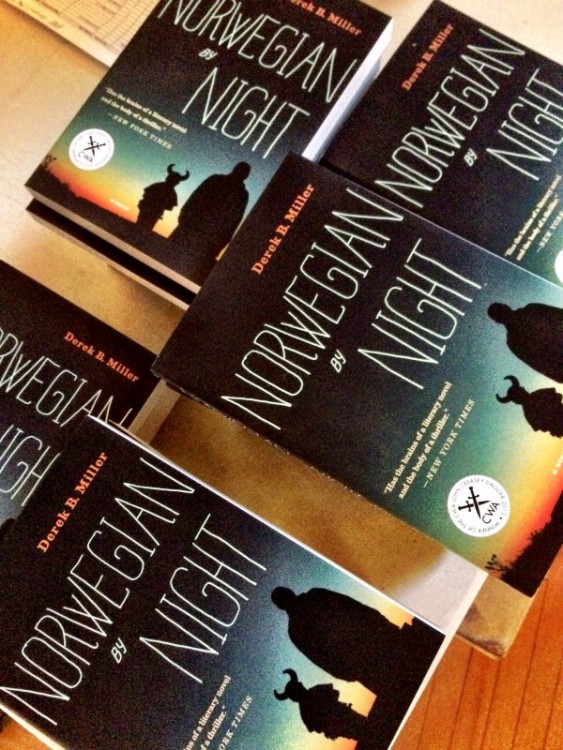 Last Saturday, the Pell Center hosted the 2015 Reading Across Rhode Island kickoff, a partnership between The Rhode Island Center for the Book and the Rhode Island Council for the Humanities. Norwegian by Night, written by Derek B. Miller, is the selected book.
The event featured a panel discussion with two speakers: Robert Hackey, professor of Health Management and Policy at Providence College and a visiting fellow at the Pell Center, and Marta Martinez, the Executive Director of Rhode Island Latino Arts. Jim Ludes, Executive Director of the Pell Center, moderated the discussion.
Living Literature, an organization dedicated to teaching literature with an imaginative, hands-on approach, also gave a preview performance of Norwegian by Night.
Reading Across Rhode Island programming will continue in libraries, schools, bookstores, businesses, and senior centers throughout the state, culminating with the May Breakfast at Rhodes on the Pawtuxet where author Derek Miller will speak about the book.
The Rhode Island Center for the Book celebrates the art and heritage of reading, writing, making, and sharing books. Through a variety of programs and activities, the Center promotes a love for books among people of all ages and backgrounds across Rhode Island.
The Rhode Island Center for the Book is hosted by the Rhode Island Council for the Humanities.  The Humanities Council is a state affiliate of the National Endowment for the Humanities, and is dedicated to inspiring and supporting intellectual curiosity and imagination is all Rhode Islanders.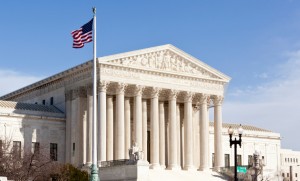 Russian Aggression
Understanding Putin's plans | The Economist
Modi listening, Obama assails Putin on Ukraine | The Indian Express
In a television interview two months ago, I lamented that despite Russian aggression in Ukraine, U.S. policy in Syria and Iran depended on support from Russian President Vladimir Putin, making Russia, ironically, the "indispensable nation" in American foreign policy.  Despite the teeth in U.S.-backed economic sanctions against Moscow—and on some level, perhaps because of them—Russian aggression is getting worse.

In the last week, a missile attack struck a residential neighborhood, killing 30, all the while Russian propaganda seeks to justify aggression as a reaction to Western interference.

The Economist—in one of the most unsettling accounts in a long litany of unsettling accounts of the conflict—describes a Russia unhinged from the 21st century.  Kremlin propagandists are working at a cold war pitch, the Russian economy is being isolated from the world as it hasn't been in 20 years, and as the politics of aggression even begin to have a cost in Russian politics, Putin's government has created a brute squad "whose launch was advertised in the state media [and] seems to have a license to carry out extra-judicial violence."

The word "ominous" is inadequate to describe developments in Russia.- James Ludes, Executive Director
The "Citizens United" Supreme Court Decision
The Supreme Court's Billion Dollar Mistake | The New York Review of Books
Whose Government? Whose Voice | Common Cause
A blog post from the New York Review of Books last week offers an overview of a set of new reports about the consequences of the Supreme Court's 2010 "Citizens United" decision regarding whether or how political campaign contributions can be regulated. According to the summary, and the individual reports – such as one from Common Cause – the impacts of the decision have been "devastating" – to a set of particular candidates and causes, but more fundamentally, to the principles of democratic participation on an equal playing field, and to the idea of government that operates for the common good, rather than in the interests of the wealthiest and most powerful.

The New York Review points out a number of practical and analytical problems with Citizens United. One basic issue is the assumption that contributions to an "independent" organization do not create the same risks of influence that direct contributions to a candidate do. As the piece points out, this distinction is more technical than real, when a given super PAC focuses on the election of a particular candidate and contributes millions of dollars to his or her successful campaign. The Common Cause report focuses on issue areas where policy decisions have not been responsive to what the public wants and needs – such as student loan affordability, gun control and wages – and where decisions have instead leaned towards the interests of wealthy donors to the "independent" organizations that helped candidates into office.- Joseph Grady, Senior Fellow for Public Policy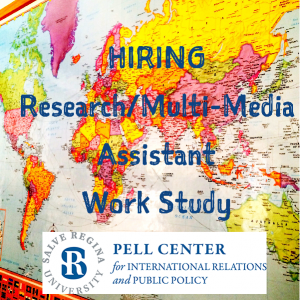 The Pell Center for International Relations and Public Policy seeks a current undergraduate student to serve as a multi-media assistant.
The principle responsibility in this job is to assist in the development and execution of the Pell Center's visual brand. This will include supporting the Pell Center's online presence, and helping imagine creative means to share the work and insights of the Pell Center. In addition, the successful candidate will be expected to provide general support to the Pell Center staff, as directed.
Qualifications:
Preferably a student majoring in graphic design or with experience (whether paid or not) in graphic design and multi-media creative.
Knowledge of Mac Book Pro, Adobe Premier, Final Cut X, InDesign is a plus, but not required.
At minimum, we're looking for organizational skills, project management skills, and a motivated, self-starting personality
Interested students must apply on Salve Regina University Office of Career Development's Gateway system:
If you have questions, please email [email protected] or give us a call at 401-341-2927.