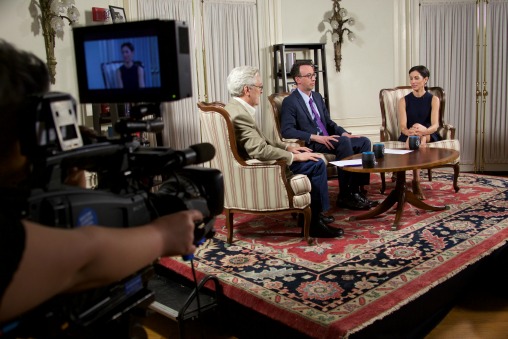 NEWPORT, R.I.—The Pell Center at Salve Regina University has announced its latest undertaking—a talk show that interviews today's best storytellers about their creative process and how their stories impact public understanding and policy.
The show, "Story in the Public Square," taped its first two episodes on June 5 and June 8, with Lisa Genova, best-selling author of Still Alice, and New York Times journalist Dan Barry, appearing as guests.
"Story in the Public Square" is named after the Center's initiative to study, tell and celebrate stories that matter. Initially presented as a conference, Pell Center Executive Director Jim Ludes and G. Wayne Miller, Director of Story in the Public Square and Providence Journal staff writer, saw an opportunity to expand the program's reach.
"Our conferences in the past were incredibly well-received by attendees, but we wanted to find a way to share the program's insights with a broader audience," says Ludes. "We are grateful to have the support from The Providence Journal, the University and our newest partner, Rhode Island PBS, to make this effort possible."
Ludes and Miller, who describe the concept as "Inside the Actor's Studio" meets CNN, also serve as co-hosts for the talk show. Each brings a unique perspective and professional experience to the project.  Miller—an accomplished storyteller in his own right—has published 14 books, as well as a number of series for The Providence Journal, including "Into the Heart: A Medical Odyssey," a nine-part series on the invention of open-heart surgery and"The War on Terror: Coming Home," an eight-part series about returning veterans of the post-9/11 wars in Afghanistan and Iraq. He also produced a documentary, "Coming Home," which was nominated for Outstanding Documentary at the New England Emmy Awards.
Ludes, in contrast, is the self-described "policy guy."  In nearly 20 years in Washington, D.C., Ludes immersed himself in national security issues, served as a national security advisor to then-Senator John Kerry, now Secretary of State, built a think-tank, and shepherded President-elect Obama's four priority nominees for leadership of the Department of Defense through successful Senate confirmations.
While the hosts come at the show from different perspectives, the conversation brings them together.  Miller focuses on the guest's storytelling craft, while Ludes explores the ways in which the guest's work contributes to shaping public understanding of issues and, where appropriate, policy itself.  Together, the two hosts hope to educate audiences not simply about any single issue a guest may talk about, but about the power of storytelling in American society today.
The first two guests, appearing before live audiences at the Pell Center in Newport, R.I., set the bar high.
Lisa Genova, who also won the 2015 Pell Center Prize, was the first guest on Story in the Public Square. In a smart and provocative conversation, she shared how her personal narrative shaped her voice as an author and the impact of her work on communities hidden by neurological disease and conditions.  Having earned a Ph.D. in neuroscience from Harvard University, Genova is uniquely qualified to bring these stories to life.  In four best-sellers, she's profiled people living with Alzheimer's disease, autism, traumatic brain injury, and now Huntington's disease, in her latest book, Inside the O'Briens.  She sees herself as an advocate for people who heretofore have been lost in public discussions, set aside by society that is intimidated—if not scared—by diseases and conditions they don't understand.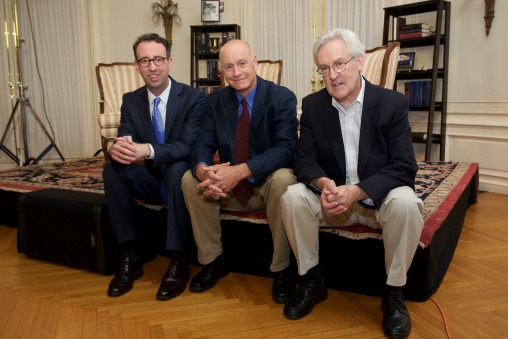 The show's second guest, Dan Barry, elaborated on how his background living in a working-class community in Rhode Island helped shape his work as journalist.  Barry, who was part of a Pulitzer-winning team at The Providence Journal, was also a finalist for two other Pulitzer prizes at the New York Times.  In columns and series for the Times, Barry often employs a behind-the-scenes approach to reporting—heading in the opposite direction of the reporters covering big events. In his coverage of riots in Ferguson, Missouri, last year, for example, Barry profiled the people who work for the police department in that embattled city.  Unlike Genova, Barry does not see himself as an advocate, but both writers spoke eloquently about the importance of empathy in their work.
"In their own unique ways, Lisa and Dan are exactly the kind of storytellers we will profile on Story in the Public Square," said Miller.  "Their stories are full of heart, emotion, unforgettable characters, and meaning.  Whether they see themselves as advocates or not is almost irrelevant.  The fact is, both of these writers give voice to those who are otherwise voiceless—and in so doing enrich the public debate."
With the pilot episodes taped, Ludes and Miller are now focused on building a successful series.  "Rhode Island PBS has committed to broadcasting the episodes we've shot in Fall 2015," said Ludes.  "But these are stories that deserve the biggest audience."  To gain national distribution, the show will need at least 12 episodes.  "It's all about funding at this point," continued Ludes.  "We know we've got a great idea.  Now we need to find the sponsor who will bring this to a national audience."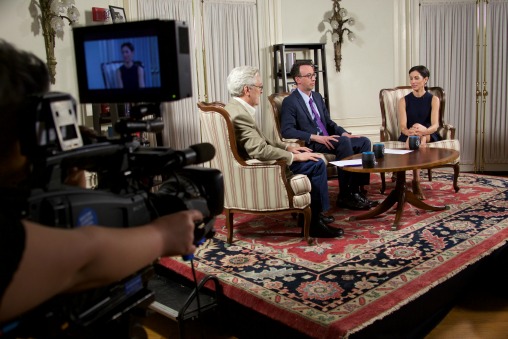 Storytelling is an ancient and underappreciated element of public life. Think of Christ's parables or Plato's dialogues – both used stories to communicate, instruct, inspire and persuade. In the American experience, think of Harriet Beecher Stowe's "Uncle Tom's Cabin," which fueled the abolitionist movement prior to the Civil War, or Upton Sinclair's "The Jungle," which contributed to a wave of reform and regulation in American industry.
However they are communicated (film, books, word of mouth, blogs, among other means), stories have the ability to touch listeners and viewers in a way that the cold hard facts of exposition never can.
Stories, of course, are like any tool that can be used in many ways. They can be either truthful or untruthful. They can illuminate or obscure important facts. They can educate or they can propagandize.
"Story in the Public Square" is a year-round initiative to study and celebrate public storytelling. It features an annual conference, lectures, awards and student contests, as well as original scholarship about public storytelling and how those stories can affect the public debate.
Story in the Public Square is a partnership between the Pell Center and The Providence Journal, and is directed by visiting fellow G. Wayne Miller with Pell Center executive director Jim Ludes.
PUBLIC STORYTELLING LINKS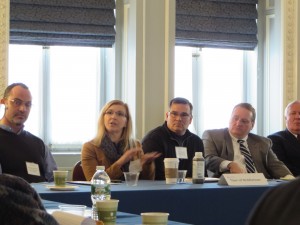 Newport, RI—Leaders from Rhode Island's cities and towns converged on the Pell Center at Salve Regina University on Friday, March 20, 2015, to report on a year's worth of effort to improve the responsiveness and efficiency of local government.  Part of Leadership Matters—a joint initiative between the Pell Center and the Public Sector Consortium,  of Cambridge, MA—the innovation conference highlighted the work of the three Rhode Island communities to participate in the program's inaugural year: Pawtucket, Middletown, and Newport.
Leadership Matters is a multi-phased leadership development program.  In the first phase, each community sends four team members for 64 hours of classroom instruction in facilitative leadership, systems thinking, negotiation, and strategic planning.  In the second phase of the program, the teams work on an innovation project they design in their respective communities.  Leadership Matters supports each participating community with additional training, mentoring, and, when requested, coaching from experienced public leaders.  Finally, participating communities come together one year after the end of the coursework to brief their projects in an innovation conference, to share lessons learned, and to begin to create a community of shared experience across the state.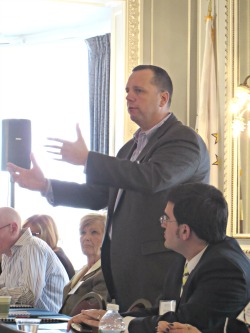 City of Pawtucket
Steward:          Mayor Don Grebien
Team:              Melissa Devine, CFO, Pawtucket School Department; Joanna L'Heureux, Finance Director, City of Pawtucket; Dylan Zelazo, Chief of Staff to the Mayor
Project:            Delivering High Quality Services to the People of Pawtucket
Pawtucket's team, led by Mayor Don Grebien, tackled a project that is common to communities across the country: ensuring "all departments within the city and school system operate collaboratively and consistently deliver high quality services to the residents, students, and employees as effectively and efficiently as possible."  The primary focus of their innovation project was the integration of systems between the city and school department to improve productivity and efficiency.
When putting together the vision statement for Pawtucket, the team wanted to make sure that they considered all of the stakeholders involved in improving the relationship between the city and the school system, because, as Zelazo later explained, a shared vision is crucial to solving problems. The Vision Deployment Matrix—a tool each team is trained on as part of Leadership Matters—helped Pawtucket illustrate their desired future reality and the processes to reach it.
According to Zelazo, the training in systems thinking was essential in reinforcing Pawtucket's vision. The team developed two systems maps to answer two questions:
Why do we struggle to meet internal customer/end user expectations?
Why do we continue to struggle to provide "common functions" cooperatively between the city & school department?
By having staff from both city hall and the school system meet each other and discuss their needs, inefficiencies between the city and the school were identified and addressed. One result of the discussions was hiring a Parent Community Engagement Coordinator, as well as a joint HR Director and joint IT Director.
Devine and L'Heureux noted the challenges of a joint finance system were many, including the need to break the habit of sending emails and placing phone calls to anonymous colleagues who were known by name or office, but not in any depth as a professional trying to do his or her job.  One of the breakthroughs described by the Pawtucket team came in the form of meeting colleagues across the financial operations of the city and the schools.  Meeting in person and getting to know each other as colleagues helped improve morale and facilitate collaboration.
Another challenge was upgrading archaic IT systems with new computers and servers to better accommodate the city and the school departments.   The new, joint IT director, however, was able to leverage economies of scale and make limited tax dollars go farther.
The team also organized a one-day workshop of additional training for branches of the staff outside of the senior positions to better improve internal relationships down the line.
The impact of training like the kind seen in Leadership Matters is contingent on the commitment of leaders in each community.  Pawtucket is no different, and the team members Mayor Grebien brought into the first cohort of the program each shared different insights.  Devine, the CFO of Pawtucket Schools said she has "learned to rethink how I need to rely on people who I supervise; to delegate and believe in the staff; and to invest the time in listening to staff at all levels."  L'Heureux, the finance director for the city, said she had learned to be "much more cognizant of other people's mental habits and the need to get them out of their silo."  Zelazo, the chief of staff for Mayor Grebien put it this way: "Leadership is a practice, everyone can become a better leader."
Mayor Grebien himself shared an insight.  In the question and answer period at the end of his team's presentation, the mayor confided that he had "learned that reinforcement is a significant part of leadership."  As if to underscore the point, Pawtucket has sent a second team to participate in Leadership Matters—this time led by Superintendent of Schools Patti DiCenso—promising deeper collaboration, efficiency, and effectiveness in Pawtucket for years to come.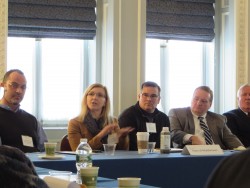 Town of Middletown
Steward:          Shawn Brown, Town Administrator
Team:              Lynn Dible, Finance Director; Tom O'Loughlin, Public Works Director; Matthew Wainwright, Technology Director
Project:            Implementing a municipal customer service model
Most citizens engage city hall when they need a permit or a license or have a complaint.  The challenge for municipal leaders everywhere is to respond efficiently and effectively while also maintaining the capacity to take on bigger initiatives.  The team from Middletown, RI, tackled these challenges head-on and sought to use changed leadership practices with new technology to improve the services provided to the town and its citizens.
In its most basic form, Middletown's vision aimed "to implement a municipal customer service model with a high level of quality (accountability and control), customer satisfaction and availability" and provide a "universal standard of customer service" whether in-person or online.  A focus on self-service solutions, the team reasoned, would save time and resources for the town, but also for citizens.
To expand the capacity and develop the strategic plan for this work, Town Administrator Shawn Brown invited most of his key leaders to town hall for a day of strategic planning and learning.  The assembled team developed a matrix which outlined the actions needed to be taken to move the town from its current reality to a desired future.  One critical aspect of this work was the recognition among team members that the Department of Public Works has a very high number of citizen interactions every day.  As a result, the entire public works division spent a day building the customer service skills in a day-long workshop last autumn.  Most attendees had never been given such training previously.  These two initiatives, alone, expanded the group of public servants in Middletown with the opportunity and training to contribute to the innovations project by improving their own performance capacity.
In addition to its essential investment in its people, the municipal leaders in Middletown are investing in innovative tools to better meet the needs of its citizens.  Some of these tools include:
Basecamp-a hosted solution system for project management, is a streamlined alternative to group emails and currently hosts 80 projects and has 60 users.
ZenDesk– a subscription service program for citizen requests, serves as a single channel for customer service request and as a knowledge base. According to Technology Director Matthew Wainwright, 300 citizen requests have been made via mobile, email and telephone with an average response time of 18 hours. The metrics ZenDesk provides are valuable pieces of information for decision-makers.
ViewPermit-holds inventory of every permit the town has—the management of ViewPermit is driven by clerks, while managers offer support.
Wainwright stated that Middletown must continue to "be willing to change and adapt" without "sitting on our laurels." Although the town won Google's eCity award in 2013, the progress cannot stop there.  Since implementing these automated systems, the town has learned which are the most common questions and concerns for citizens.  Changes in the town's website followed—including augmented information and simplified navigation to make it easier for people to find the information they need—whether about voting booths or when the town's famous beaches would open.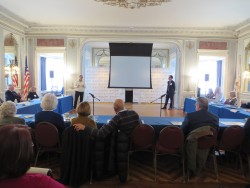 City of Newport
Steward:          Jane Howington, City Manager until June 2014, then Laura Sitrin, Director of Finance
Team:              Bill Riccio, Director of Public Services; Naomi Neville, Member of the City Council;
Project:            Exceeding customer expectations
One of the challenges that every community faces at some point is the transition in leadership that accompanies elections or personnel changes.  The goal then must always be to create a culture of innovation that embraces the best tenets of leadership, regardless of the individual personalities involved.
This was certainly the challenge facing the talented team from Newport when their initial steward, Jane Howington left Rhode Island for a professional opportunity in Ohio.  Fortunately, Finance Director Laura Sitrin was ripe for the challenge.  She had, in fact, been leading the innovations work since the project began in March of 2014, meeting almost every two weeks to assess progress and adjust efforts.  Among the first products they delivered was a vision statement:
Striving to Exceed Customer Expectations
Working together as a team
Sharing vision; sharing resources
Supporting each other; respecting each other's skills and abilities and knowledge
Feeling empowered by what we can do/achieve
Every department's vision supports the group vision
The team from Newport identified services provided to the community, identified end-users, assessed the expectations of customer service, and reviewed measurement systems to build an understanding of how to meet customer service goals.  By working through this process as a group, the leaders developed new ways to make improvements and also began to gain a perspective on the demands and issues that their colleagues faced in providing services.
Formal learning programs for City Hall employees began with a systems thinking practicum in April 2014.  Municipal leaders analyzed the current system that answered the following question: "Why, despite best efforts, have we not been able to integrate the systems and services within City Hall, to meet the current citizen expectations with the resources we have?"  Their work resulted in a focused and strategic look at how customer needs are met and what can be done better.
Sitrin took the model of facilitative leadership taught in Leadership Matters to heart.  In the meetings she organized for municipal workers, Sitrin made a conscious decision to not insert her own views into discussion, withholding them and, instead, encouraging others to speak.  One such person was Nancy Lalli, a controller in the finance department, who joined the Newport team for their presentation at the innovation conference.
Lalli and Sitrin explained to the conference participants how the team needed to focus on the way the city would deal with issues coming from citizens; manage staff to accommodate citizens' needs; and develop "one-stop" shopping for Newporters to get the right resources. To make sure that the committee meetings were efficient, they established rules of engagement—respect, confidentiality, etc. By defining customer service and management through this process, issues were readily identified.
Sitrin and Lalli relied on their vision deployment matrix.  They "want employees to be confident, valued, and relaxed" and "want citizens' to have their expectations [of the City of Newport] exceeded." There was special training for staff who answered phones with customers—because there was no formal training in place before, employees were pleased to undergo the training. The skills the employees had learned during the training could be immediately applied.
Another question Newport sought to answer during Leadership Matters Rhode Island was "How do we improve [the City of Newport's] public image?"  Four committees were selected to address this problem—marketing, social media, city hall building, and phone/email improvement.  Newport worked with Worldways Social Marketing to develop solutions. Marketing and social media were eventually grouped together—Worldways developed a Facebook page and a new website that supports an employee portal for internal communication. To reinforce the new procedures for answering the phone, as well as email, there were measures of success that employees were held accountable for (response time, correct transfers, etc.).
The committee to address the city hall building, which consisted of 18 employee volunteers, had collectively described the physical experience of being in the building as "dingy."  Several changes were made, as a result:
The committee put together a list of 75 items that were refreshed, replaced, removed of relocated to improve the flow and feel of the building
New planters were added to the front steps of the building
A bulletin board was added outside to showcase city employees
A volunteer greeter force was put in place to make customers feel welcome
It would be trite to say that a fresh coat of paint and some planters changed city hall—but a the process used to identify and tackle these issues speaks of a new day in Newport city government.  As Riccio observed at the innovation conference, four city agencies have solidified relationships as a result of Leadership Matters. "Everyone has a mantra of continuous improvement" he said, and acknowledges that the changes being made are positive.  Newport, like Pawtucket, has sent a second team for training in cohort II.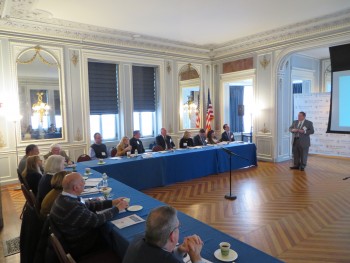 Leadership Does Matter
The challenges facing public leaders—whether in Rhode Island or around the world—can be reduced to one simple insight: leadership matters.  Whether transforming the way city hall and a school system operate in concert, or making municipal services more responsive to the needs of constituents, the critical difference between a community moving forward or becoming mired in frustration is leadership.
In Rhode Island over the last eighteen months, three communities have launched a process of continued learning and innovation intended to improve the effectiveness of local government.  This is no small task, but the payoff may be immense.  Better, more responsive, more open municipal governments break down the barriers to progress that stymie innovation and economic development.  With the continued leadership and commitment of public leaders like Pawtucket Mayor Don Grebien, Middletown Town Administrator Shawn Brown, and Finance Director Laura Sitrin of Newport and their talented teams, the sky is the limit.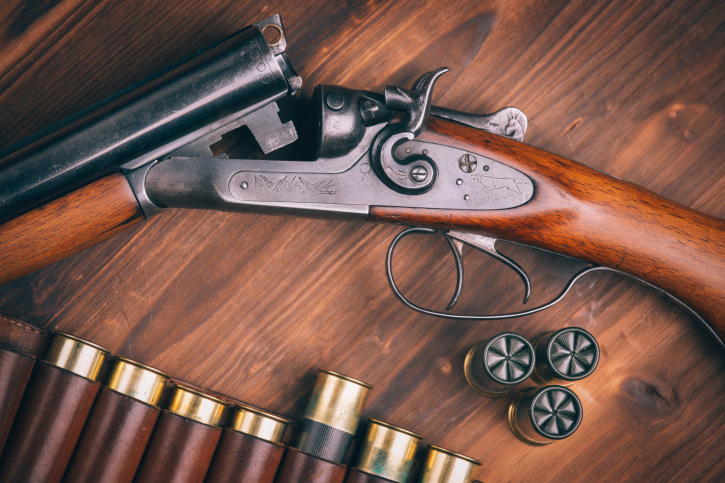 The United States has about 5% of the world's population yet it accounts for anywhere from 35 to 50 percent of the world's civilian-owned guns.
There's roughly one gun for every person in America. Not surprising then that the U.S. also has among the highest rates of both gun homicides and gun suicides. Hundreds of mass shootings occur every year in our country and the majority of the guns used in these shootings were obtained legally.
On Friday, April 10th, Pell Center Visiting Fellow Carolyn Deady will lead a roundtable discussion which will explore questions such as: Does America have a problem with guns? The facts indicate the there is indeed a problem. If so, what is the solution? More guns? More restrictive guns laws? And more.
Please join us for the roundtable discussion and a free lunch in the Miley Private Dining Room from 11:45 am – 12:45 pm. Roundtable discussions are open to students, faculty and staff at Salve Regina University. Space is limited. Please RSVP to [email protected].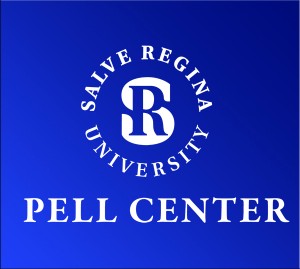 NEWPORT, R.I.—The Pell Center's Senior Fellow for Cyber Leadership, Francesca Spidalieri, has designed and is now teaching a new graduate-level course, Management of Cyber Opportunities and Threats (MGT 558). The course, which is a new core requirement, represents a distinctive feature of the Salve Regina MBA program and is open to students from other academic disciplines as well.
Cybersecurity is increasingly central to the purview of senior business executives and is not something that should be left to IT departments.  This insight, derived from pioneering research at the Pell Center and around the world, is part of the reason the new course will be a requirement for all Salve Regina MBA students. Salve Regina's MBA program aims to train leaders for the twenty-first century, and Spidalieri's course will provide students with an understanding of opportunities and threats of doing business in cyberspace, and will address a variety of topics, including: the advantages and risks of new technology innovations; risk assessment related to security breaches and privacy; intellectual property; industrial espionage; business continuity; and resiliency planning. Students will learn strategies on how to prevent and mitigate cyber risks and will acquire the tools to build a comprehensive incident response plan, including disaster recovery and business continuity.
"We are excited to have Francesca Spidalieri teach the Management of Cyber Opportunities and Threats course," says Traci Warrington, Dean of Professional Studies at Salve Regina University. "Her contributions to the cybersecurity field are important across industry sectors, and we look forward to the opportunity that students will have to interact with, and learn from, Ms. Spidalieri."
"When the Pell Center began looking at cybersecurity two years ago, master's degree programs were really in the stone-age when it came to preparing leaders for an era of persistent cyber threat," said Pell Center Executive Director Jim Ludes.  "It's exciting to see Salve Regina University lead the way to prepare the next generation of executives."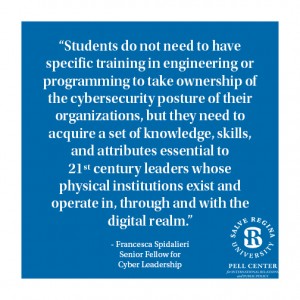 In 2013, Spidalieri published a study* that detailed the failing of America's most prestigious graduate programs to prepare their graduates—and ultimately the nation—for cybersecurity challenges. To date, this remains the only study on the status of cyber education for non-technical leaders in the country and has been cited in various other academic reports and news articles addressing the need to develop cyber-strategic leaders and encourage senior executives to take ownership of their organizations' cybersecurity. Various colleges and universities have added cybersecurity degrees and concentrations since the study's publication, but most of these programs remain highly technical.
"The goal of this course is to turn our students into 'cyber-strategic leaders' who possess a deep understanding of the cyber context in which they operate and who are able to harness the right tools, strategies, people, and training to respond to a dynamic and rapidly-developing array of cyber threats," says Spidalieri.
According to Spidalieri, "students do not need to have specific training in engineering or programming to take ownership of the cybersecurity posture of their organizations, but they need to acquire a set of knowledge, skills, and attributes essential to 21st century leaders whose physical institutions exist and operate in, through, and with the digital realm."
Dr. Arlene Nicholas, the graduate director of MBA/MS management programs at Salve Regina University, notes that "the MBA program revised its core to address the resourceful foresight necessary for current and future managers."
"The administration of business and workers needs to include the cyber access of customers, suppliers, and employees," Dr. Nicholas says.  "Hiring methods, record keeping, billings, advertising, consulting and the myriad of cyber business used every day requires managers and workers to be aware of safe practices."
*Download the PDF of Spidalieri's study One Leader at Time: The Failure to Educate Future Leaders for an Age of Persistent Cyber Threat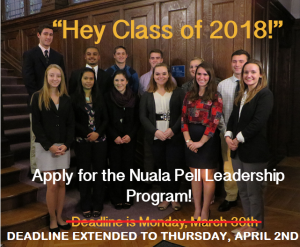 Rising sophomores are invited to participate in Nuala Pell Leadership Development Program
The Pell Center invites students from Salve Regina's Class of 2018 to apply for the Nuala Pell Leadership Development Program for the 2015- 2016 academic year.
Named in honor of the late Nuala Pell, the wife of Sen. Claiborne Pell and an avid supporter of service, the Nuala Pell Leadership Development Program aims to build students' leadership skills that can be used in the classroom and in the real world.
Twelve students from the Class of 2018 who demonstrate a commitment to developing their leadership skills will be selected to participate in the program.
Students in the program will attend monthly seminars and engage with accomplished leaders in Rhode Island. Past speakers have included the president of The Rhode Island Foundation, the senior vice president of CVS Caremark, and a state superior court judge.
In addition, students will work in groups to propose, design, and execute their own service projects. Students will also be asked to write monthly reflections to document their progress throughout the program.
Applicants must have at least a 3.0 GPA as of September 2015 and must be able to attend all meetings of the group. All majors are eligible.
To apply, students must complete the following requirements:
Each applicant must identify and ask a Salve Regina faculty or staff member to nominate you by writing a simple nominating email to the Selection Committee by March 30 (letter of reference not required; Nominators may not include Ducha Hang or Robin Hoffmann)
A Statement of Interest (400-500 words) must be submitted (via email to [email protected]) by Thursday, April 2nd and should indicate why you are interested in the program, interest or experience with leadership, and how you anticipate using leadership skills in the future.
Selected applicants will be asked to participate in an interview. As part of its decision-making process, the Selection Committee may also consult with an applicant's First Year Transitions instructor. The Selection Committee will notify students of their provisional acceptance the week of April 27
On Monday, April 13th, the Pell Center at Salve Regina University is hosting Pulitzer-Prize winning author and journalist Sonia Nazario in partnership with The Mosaic Student Newspaper and the Office of Mission Integration.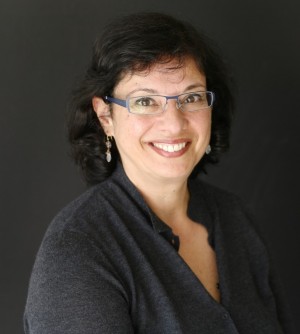 Nazario's work focuses on issues of immigration and human rights. Her book, Enrique's Journey, follows a Honduran boy on an odyssey that takes him away from his home country in search of his mother, and a better life, in America. Nazario's reporting tells the story of Enrique, his family, and the countless refugee children making similar journeys. She will be speaking about her experience in reporting this ongoing story, followed by a Q&A and a book signing. This lecture is free and open to the public, but seating is limited.
The lecture is free and open to the public. To register, please visit the Pell Center's Eventbrite page.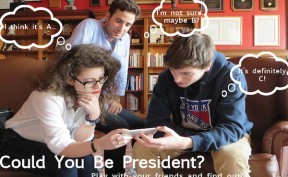 The Pell Center has entered in the Knight Foundation's News Challenge competition with a proposal for a game app called "Could You Be President?"
The Knight News Challenge hopes to answer the following question–how might we better inform voters and increase civic participation before, during and after elections?
"Could You Be President?" challenges players' knowledge of current issues including global warming, security, government spending, and immigration. By playing the game, users will learn about the issues, become more engaged, and become more interested in voting to make a difference. Smartphones are the major tool of communication and interaction for 18-35 year-olds, and a game that attracts this group is a powerful way to inform and engage them in civic participation. When we know more about something, we are more interested!
Click to "applaud" the Pell Center's entry on the Knight Foundation's website.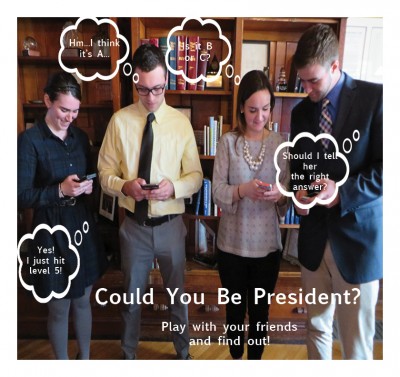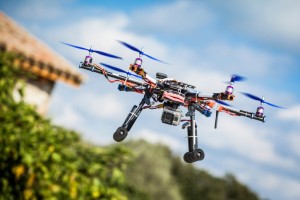 Drone technology is increasing in sophistication and application at a rapid pace.
Drones can now deliver your purchases and take aerial photographs of your favorite landmarks. They can also listen into your conversations, observe you from afar and even kill you. The regulation of drone technology is taking on increasing importance and this discussion will enable us to look at some of the key personal and security issues.
Please join us for this timely discussion with Dr. Sean O'Callaghan on Tuesday, Mar. 17 at 11:45 a.m. – 12:45 p.m in the Miley Private Dining Room.  Roundtable discussions are open to students, faculty and staff at Salve Regina University. The Pell Center will provide a free lunch. Space is limited. Please RSVP to [email protected].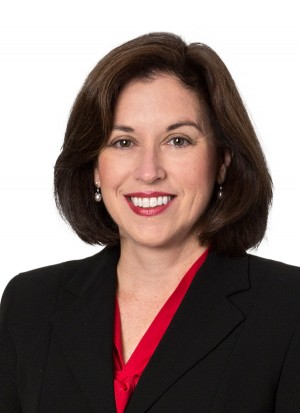 NEWPORT, R.I. —The Pell Center today announced the addition of Ellen Marie Giblin to its team of cybersecurity professionals. Giblin, who is Counsel in the Boston office of the national law firm, Locke Lord LLP, is a recognized expert on global privacy and data protection as well as cyber breach response.  She will be a Cybersecurity Leadership adjunct fellow at the Pell Center for International Relations and Public Policy.
"Ellen Giblin brings a wealth of experience and expertise on the legal and risk management aspects of cybersecurity to the Pell Center," said Jim Ludes, Pell Center Executive Director.  "Over the course of her career she has demonstrated not just mastery of the law and information governance, but also the persuasive use of social media to build a community of experts.  We're delighted to work with her."
Senior Fellow for Cyber Leadership Francesca Spidalieri noted "The Cyber Leadership project, and especially the Rhode Island Corporate Cybersecurity Initiative (RICCI), has already benefited greatly from Ellen's active participation in important discussions about timely and significant cyber issues, such as breach response, regulatory and legal insights to legislative initiatives, information sharing across many sectors, and risk management.  Thanks to Ellen Giblin, RICCI will now be able to expand the scope of its research and outreach to many other emerging areas in the cyber threat landscape."
"The Pell Center fellows program continues to grow with gifted scholar-practitioners like Ellen Giblin," continued Ludes. "Together, they keep us connected to developments in a diverse array of fields and leaven the work we do."