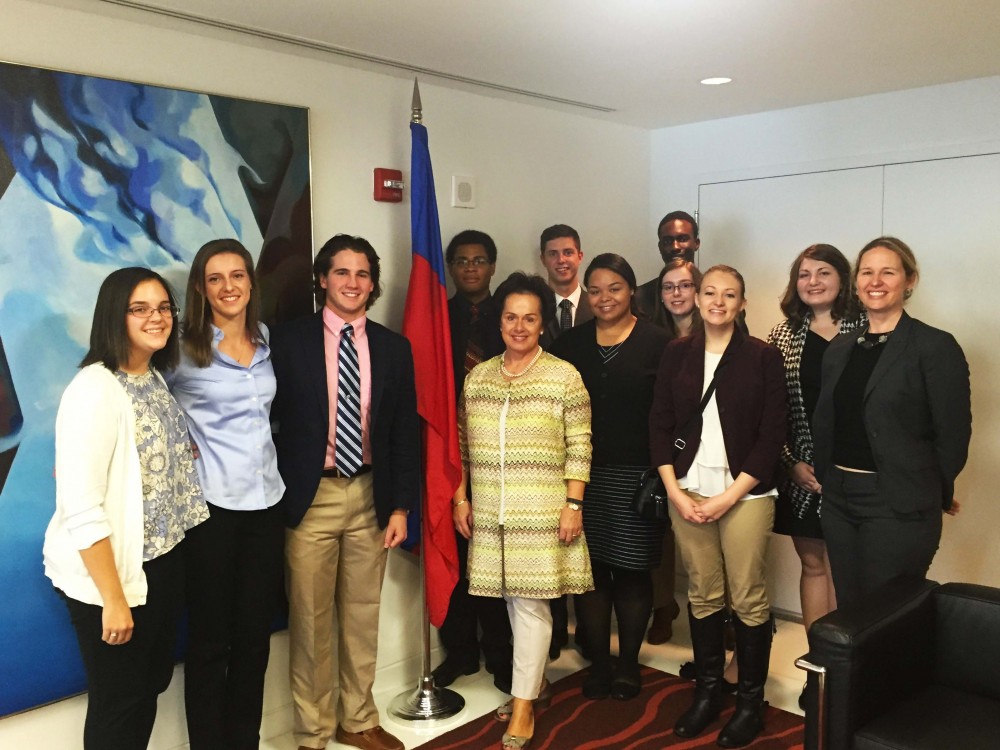 Saturday came and went in the blink of an eye as the Nuala Pell Leadership Fellows checked out of the hotel and boarded a plane bound for Providence. We were all mentally exhausted – I believe that in some way, shape, or form, this trip challenged all of us to re-evaluate our assumptions and conceptions about what leadership is, what it looks like, and how we can all improve our own abilities as leaders. The following quotes are from members of the Nuala Pell Leadership Program as they reflect on their experience: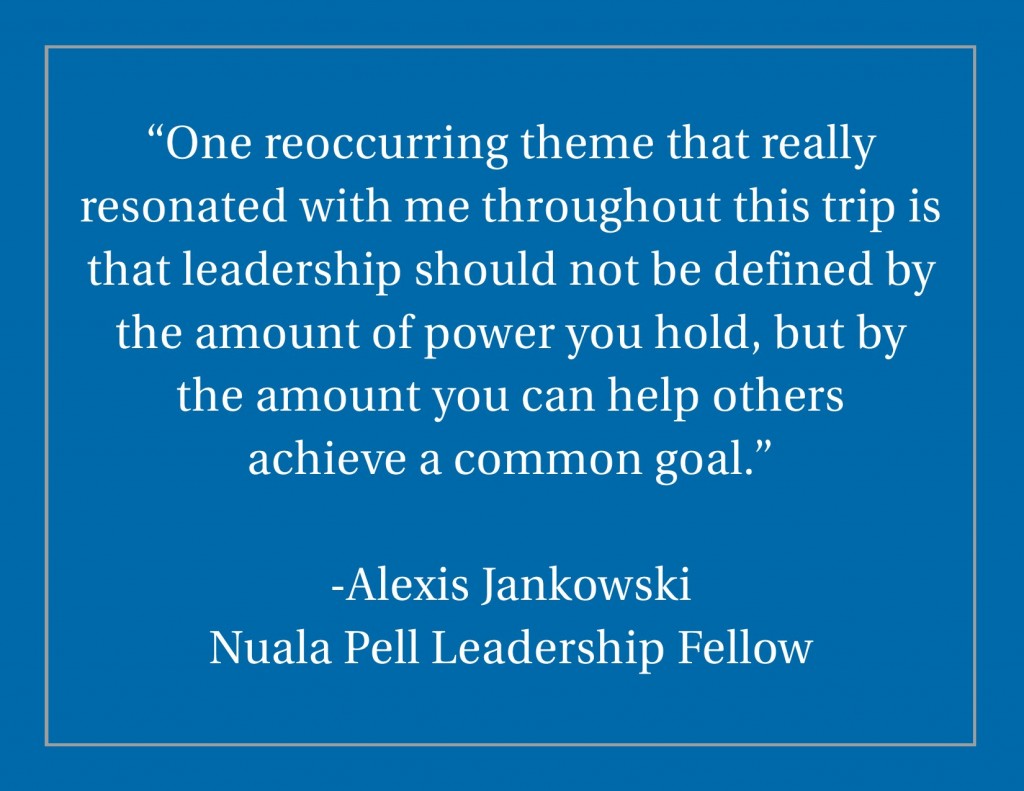 "The ambassador of Liechtenstein made a huge impact on my perception of leadership. She emphasized the importance of embracing our own style of leadership rather than imitating someone else's. I learned that leadership should be natural and genuine." – Devin Smith
"My favorite part of the trip was meeting the Ambassador of Liechtenstein, Claudia Fritsche. She is an inspiring lady and I admire her confidence and grace. I also believe that the best advice we were given came from her, to always be true to yourself.  It was wonderful to have the opportunity to meet so many different leaders. They each had something unique to say, and we were able to see how effective leadership skills can be applied in so many different areas." – Kathryn Clancy
"My favorite part of the trip was the exposure to such a wide range of leaders, from senators, representatives, and ambassadors to leaders such as Iain Guest of the Advocacy Project. He inspired me most because of his sincere commitment to helping people on the most personal level possible." – Amanda Reis
"One reoccurring theme that really resonated with me throughout this trip is that leadership should not be defined by the amount of power you hold, but by the amount you can help others achieve a common goal. It doesn't matter if you're a country's ambassador or a student working on a group project, leadership skills are valuable to everyone in almost any situation you can think of." – Alexis Jankowski
"The DC trip was a remarkable experience, which greatly expanded my insight into what a leader encompasses. Meeting the ambassador to Liechtenstein and people from diverse positions provided me with an opportunity to learn different forms of leadership. I am extremely grateful that so many people took the time to make the trip so rewarding." – Brittany Fox
We were exposed to some of the most inspirational people who presented very diverse definitions of leadership as well as the struggles that leaders face. They identified that cooperation, being true to yourself, confidence, a clear goal, a willingness to sacrifice for the good of others, commitment, and listening are all qualities of a good leader. A good leader does not need to be popular or celebrated, a good leader can just as easily be a quiet supporter who sets a standard for others to follow. What is a leader? Someone who helps others to succeed, someone who helps make a difference. – Kay Scanlan, Nuala Pell Leadership Fellow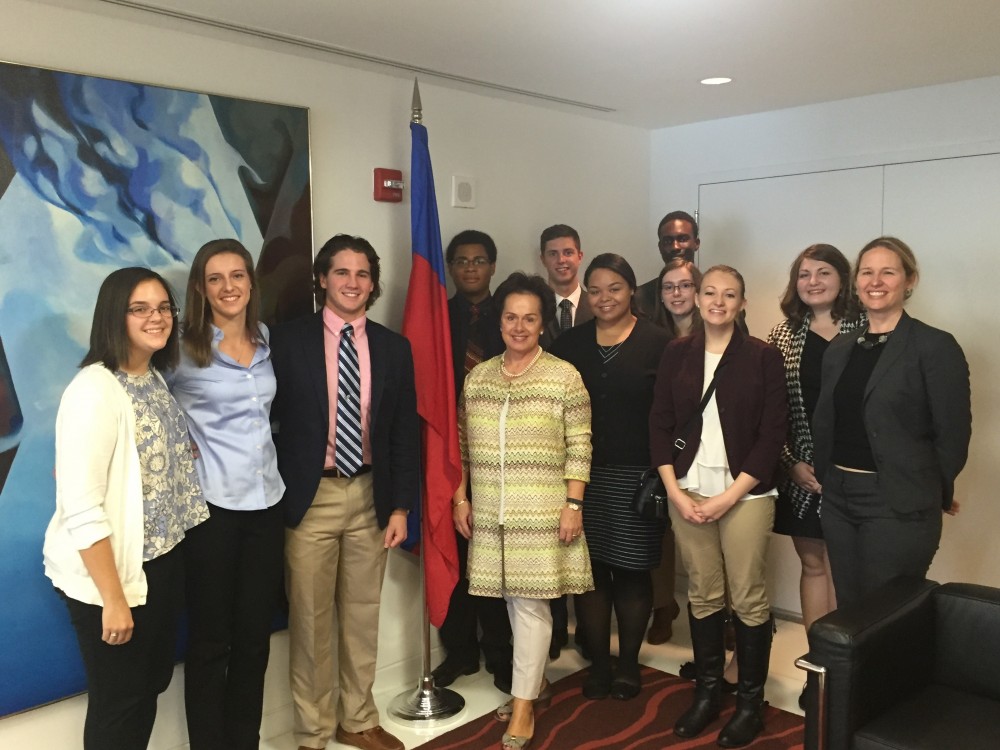 On the morning of October 30, 2015, Salve Regina's Nuala Pell Leadership Fellows returned to the Embassy of Liechtenstein to speak with Ambassador Claudia Fritsche in a more formal capacity about her personal background and concept of leadership.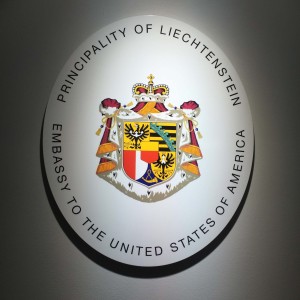 We were both shocked and inspired to learn that the Ambassador had not received a higher education, as it was very difficult for young women in those days to get an education. To say that she is an exemplary role model for leadership would be an understatement. She came to the United States 25 years ago and created Liechtenstein's first post with the United Nations, followed by the country's first Embassy in the US. She has been in diplomatic service for 42 years.
Fritsche describes her position and responsibilities as a commitment, especially as her nation and embassy are quite small, disallowing her to delegate as a large nation like the U.S. or China would. Additionally, she articulated that as an ambassador representing your country, sometimes you will have to fight for an idea or belief that is not your own. However, she was adamant that despite the challenges, she is motivated by a love of her country and has found that being highly involved in some things is better than having a small hand in many things. Some causes she finds important to herself and Liechtenstein are human rights (especially gender issues and women peace and security), international law, and the environmental agenda.
When asked what advice she would give to aspiring leaders, Fritsche replied, "never think you know everything and always ask questions."
Our next leader, Dennis Wholey, is a television host and producer from Rhode Island. He jokingly described himself as a follower, not a leader, but a follower of his dreams. Coming from a humble background, Wholey, like Claudia Fitsche, said that the key to success is learning how to ask questions and listen to what people have to say. He continued on to explain that to be considered a good leader, you have to have a clear idea, then you have to become good at the craft, gathering knowledge and experience, and then have the ability to motivate others to become involved in your cause.
Of the leaders we had spoken with so far, Dennis was very relatable, and sometimes it felt like we were talking more about ourselves than him because he was genuinely curious about our own backgrounds and dreams. One very meaningful moment was when he asked one of the fellows about her major, and she said she had chosen it to make herself more marketable – something many college students can connect to. Dennis Wholey insisted that she reevaluate her decision, to make sure that she loves what she is studying, to chase down her dreams regardless of what other people say.
After eating lunch from one of the many food trucks in D.C., the fellows visited the World Bank. We were welcomed by several bank representatives from different countries, including Lebanon, Albania, Romania, the United States, and Nigeria. The World Bank's mission is to end poverty and the people we met with are responsible for working on specific projects, such as putting bathrooms in schools in Africa, to end poverty through creating a stable infrastructure for the government, who is their client. They explained to us that the World Bank has a strong, positive reputation throughout the world and when they commit to aid a country, it will often encourage other organizations to join the cause. However, the opposite is also true – if the World Bank does not get involved, it is unlikely that the country will receive aid from other organizations.
The representatives spent a lot of time talking about the importance of cooperation in regards to leadership because in their positions, they have to work with many other people who are all leaders in their own right. They said that it wasn't uncommon for people other than the designated leader to take charge, which can be challenging in some ways for the good of the project. Some other advice the representatives had for us was to listen to what other people's opinions are and to also have confidence in your own ideas. At the end of the day, they said that they enjoy all work they do because they are able to make a difference through an organization that has the means.
Next, we met with Iain Guest to discuss the Advocacy Project, specifically about Advocacy Quilting. The Advocacy Project (AP) gives a voice to struggling communities by opening dialogue about their conflict, and one method is through quilting. Women in community based organizations tell their stories through quilt panels that are sent to the United States to be assembled.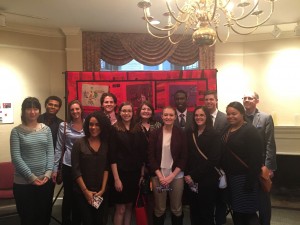 Some quilts are quite graphic, while others are symbolic. The quilt from Kenya was made by Rehema widows and explicitly portrayed images of a burning house, female genital mutilation and the general inequalities between men and women in Kenya. Another quilt consisted of several hands that had henna designs drawn on them, reaching outward towards light and hope, representing the discrimination faced by LGBTI in India. There were five quilts in total displayed, all representing different causes, and all passionately made and inspiring.
Guest told us that leaders in their line of work emerge very naturally because the people in their organization are fully committed to giving underrepresented populations a voice and the quilts, while beautiful and intricate, they are a symbol of pain.
Personally, the day challenged my own definition of leadership. Through the leaders we spoke with, it was clear that a good leader can be a good follower, a role model, and a believer following their passion. – Kay Scanlan, Nuala Pell Leadership Fellow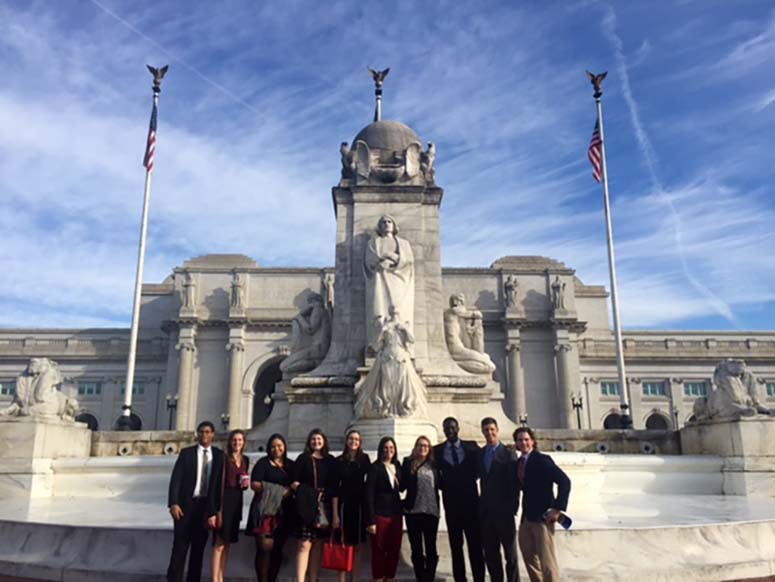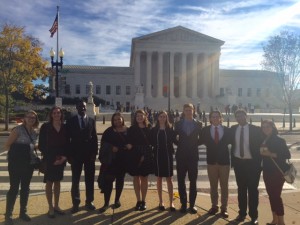 On the morning of October 29th at 6:30 a.m, 10 bright-eyed Nuala Pell Leadership Program fellows boarded a flight bound for Washington D.C.
Many of us had never been to D.C., and immediately after getting off of the metro (an experience in and of itself), the uniqueness of the city was striking. Built during a time when America was struggling to develop a national identity, the awe-inspiring structures closely mirror Roman and Greek architecture to reflect their classic ideals about democracy and government.
Our first stop was the Capitol building, where the fellows visited s-116, the room at the end of the Brumidi corridor where the Senate Committee for International Relations meets. It was inspiring to stand around a table where figures such as Presidents Obama and Kennedy, Vice President Biden, Senator Shaheen, and our very own Senator Pell had sat discussing international relations and welcoming heads of states from other countries.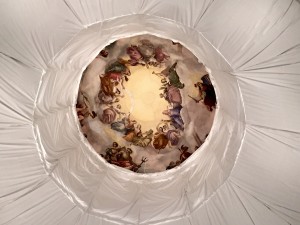 Next, we toured the Capitol building itself, and while it is currently undergoing significant restoration and maintenance, it was still impressive to walk where history was made. We were able to see the old senate and Supreme Court chambers, as well as the Crypt and part of the mural on the dome in the rotunda. Even with most of the ceiling covered, you could still see President Washington sitting among the Angels. Below the Capitol building is the relatively new visitors center, which is a spectacle in its own right for the numerous statues that are representing of each state, including an large replica of the Statue of Freedom, the original of which sits atop the dome of the Capitol.
Meeting the Senators and Representatives from Rhode Island was an incredible experience. Senators Reed and Whitehouse were very down to earth and engaged us with conversation about leadership – what it means to them, their influences, and what aspects of leadership are most important in their jobs. Senator Reed explained leadership as a cooperative discipline, the ability of one person to willingly work with others, despite conflict, for a greater good. Senator Whitehouse explained that in addition, honesty is an equally important characteristic because it helps people to have trust in you as a leader. We were quite surprised when the Senator started rifling through his wallet and, after a moment, retrieved a cut out obituary for Richard Winters which included a quote of his.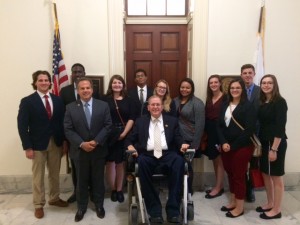 Whitehouse read from it that you are a leader "if you can find that peace within yourself, that peace and quiet and confidence that you can pass on to others, so that they know that you are honest and you are fair and will help them, no matter what, when the chips are down."
Rep. Langevin and Cicilline were also tremendously welcoming, discussing with us the perception of congressman and the struggle with bipartisanship that congress has been facing in regards to leadership. It was an phenomenal opportunity to talk with them because they were  seemingly no longer representatives of the congress,  but real and candid men concerned for the good of their state and nation, and the interest that young people have in government and politics.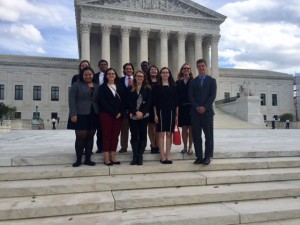 Finally, the fellows attended the much anticipated reception at the Embassy of Liechtenstein. The ambassador, Claudia Fritsche was a lovely host, welcoming all of us to D.C. and introducing us to the guests who all seemed to have a relationship to Senator Pell and Nuala Pell. It was a wonderful change of scenery after a long, once-in-a-lifetime day on the hill. It was surprisingly nice to find that many of the guests sought us out to speak about our backgrounds and our interest in leadership in a more casual setting – if you can consider the ambassador's beautiful and modernly decorated residence casual!
After much reflection of today and through the leaders we spoke to, we came away with not only a new understanding of the many definitions of leadership, but also a much greater appreciation for Senator Pell and Nuala Pell, the namesake of the leadership program. Their legacy is very much alive and well, as related through personal anecdotes of leaders we spoke with. Senator Reed described Claiborne Pell as a man who was a "gifted and humble statesman" who didn't feel the need to always be on top, rather someone who kept in mind the big picture. Nuala was repeatedly described as gracious, intelligent and supportive of her husband, while humbly breaking the glass ceilings of the nation's Capitol and making herself heard and being involved in politics in a time when women generally weren't. – Kay Scanlan, Nuala Pell Leadership Fellow