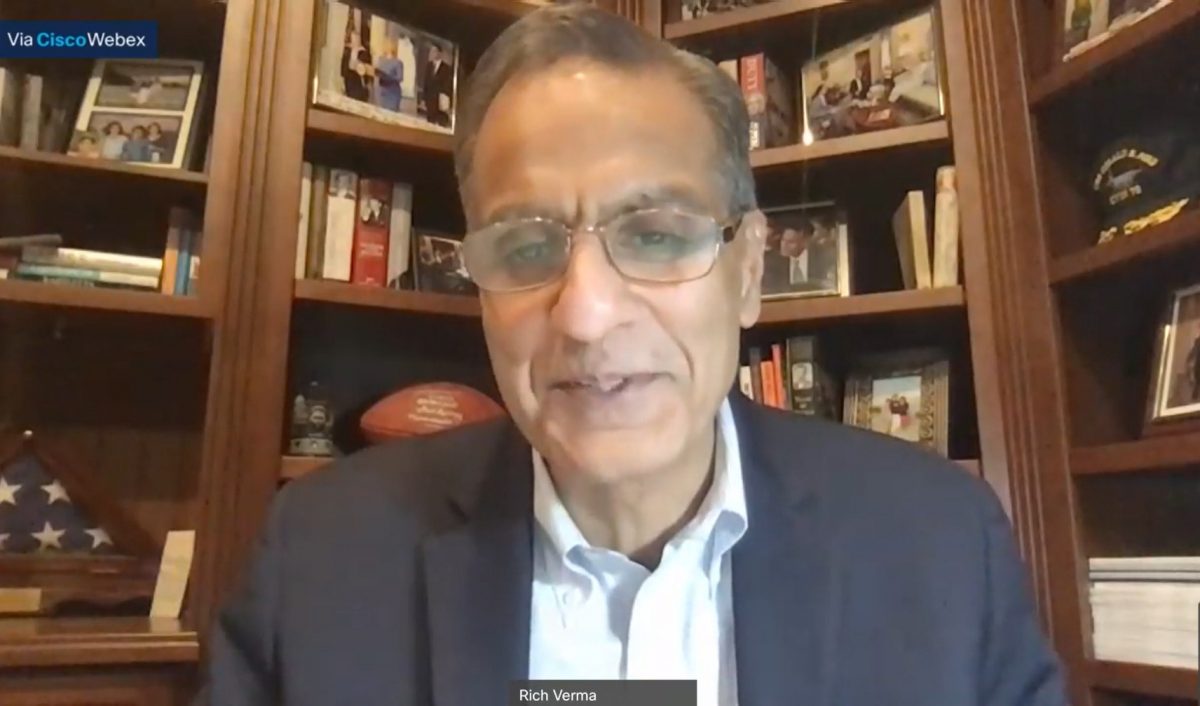 The relationship between the United States and India has long been complicated. On March 3, 2020, Salve Regina's Pell Center Executive Director Dr. Jim Ludes hosted Ambassador Richard Verma, who served as the U.S. Ambassador to India during the Obama administration.  Verma addressed the current relationship between the U.S. and India, India's role in global and regional affairs, and how the Biden administration might approach India on everything from China to free trade.
Verma describes India as an exciting place, albeit the challenges it faces, and said India is a country "that is experiencing dramatic transformation, saying it would be beneficial for world powers to partner with India in the coming years. As for where the country stands politically, it is clear both the U.S. and India had similarities in their rise to prominence. Verma explained why personal relationships in foreign policy are important, mentioning Prime Minister Modi and former President Obama's strong working relationship.
"We want an India that plays a very active role in the international stage," Verma said in response to how the U.S. hopes to work with India. He said Prime Minister Modi would like India to become a major world power in the world, but it is hard to know when they will be able to achieve that. For so long, India has focused on domestic issues, but the U.S. sees that India is on a promising path.
When asked about India's relations with Russia and China, Verma firmly believes that history matters. He adds, "[r]ight after World War II, Russia was not really an adversary of the United States and [it] was not really a close friend [or] partner of India." Verma explains how Nixon had very negative feelings toward India, is this what set the future, and Russia and India grew a stronger connection. Today, India's connection to Russia is not as strong as it once was. The United States and Russia are in this battle for fighting for a stronger partnership with India, however, it is something to understand that Russia and India already have that old connection as well. It is a worry that since India purchased advanced Technology from Russia that it may set the United States back in this regard.
Abigail Ransegnola is an English communications student at Salve Regina University and an intern at the Pell Center for International Relations and Public Policy.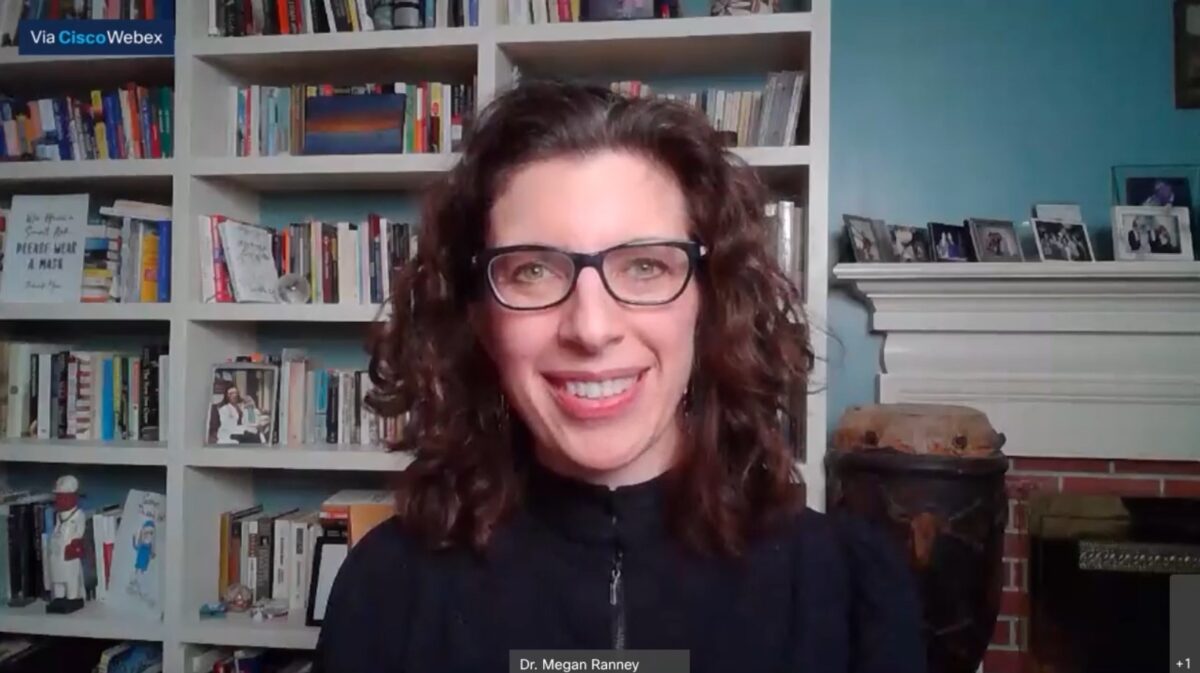 With the rise of COVID-19, rumors and disinformation about the coronavirus have spread throughout the United States and the world. It seemed as if everyone had different knowledge about the coronavirus, and for many, it was been hard to distinguish between truth and fiction. After the coronavirus vaccines were approved, the confusion and misinformation began to circulate once more. On February 10, at 7:00 p.m., Pell Center Executive Director Dr. Jim Ludes hosted Dr. Megan Ranney on Facebook live to discuss the truth about the vaccines, the myths, and to answer audience questions in real-time.
Ranney graduated from Harvard in 1997 with a degree in History of Science. After graduation, she spent time working with the Peace Corps, and upon her return, she became a medical student at Columbia University. She is now a practicing emergency physician and researcher whose work focuses on digital health, violence prevention, and population health. Ranney has also done tremendous work around COVID-19 during its outbreak. She brought the public's attention to the lack of protective equipment that frontline workers had access to by launching the campaign, #GetUsPPE, to collect, create and distribute personal protective equipment around the United States. She was named the 2020 Rhode Island Woman of the Year, and in 2021, Ranney became Associate Dean for Strategy and Innovation and Brown University School of Public Health.
Answering audience questions during the Facebook live event, Ranney expressed concern when asked about "vaccinating our way out of the virus." She said that with new strains emerging, the virus has become "much more transmissible." This means that it's easier to catch. "Which means, given our particularly moderate levels of mask-wearing and our high levels of indoor socials, we're going to see a lot of people get infected." While Ranney shared her concern with this, she seemed certain that with COVID-19 evolving into different strains, there will have to be more vaccines in the future. With "herd immunity" becoming harder to achieve, 'vaccinating out of the pandemic' with one dose of the COVID-19 vaccine seems unlikely. Instead, we will likely see "booster" immunizations emerge to ensure better immunity among those who have already been vaccinated.
Ranney believes that our lifestyle that has been shaped by the coronavirus will not last. She said, "There is an end in sight, but your actions today do still make a difference."  She says that even though numbers are dropping, we are still seeing high infection rates compared to the summer and fall of 2021. Ranney encourages everyone to wear a well-fitting, high-quality mask and to avoid indoor socialization without a mask. She also recommends referring to the Brown Univerity's Center for Digital Health "My COVID Risk" tool to assess the potential risk level for various activities with variables that users can set. Visit https://mycovidrisk.app/ to learn more.
Abigail Ransegnola is an English communications student at Salve Regina University and an intern at the Pell Center for International Relations and Public Policy.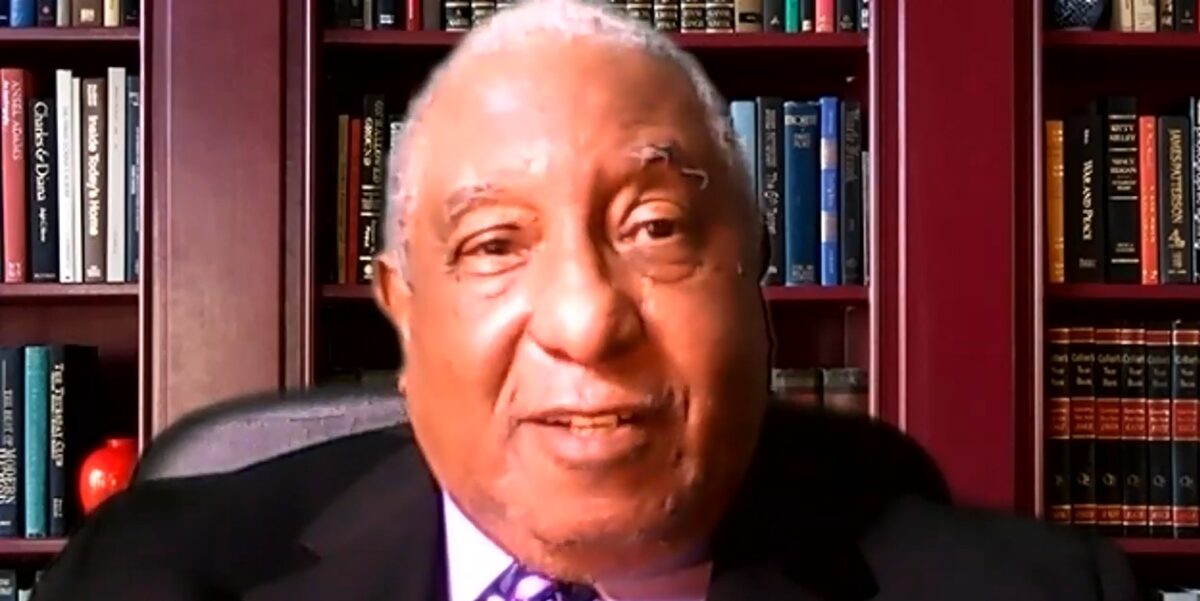 On January 20, 2021, Joe Biden was inaugurated as the 46th President of the United States of America. Changes are anticipated, and many are anxious about whether President Biden will deliver on the promises he made during his speeches pre-inauguration. One of the biggest and most anticipated topics that everyone has on their minds is racial justice and the future it has. The night after the inauguration, Salve Regina University's Pell International Relations held a Facebook Live with host Dr. Jim Ludes, who was joined by two discussants: Dr. Timothy Neary of Salve Regina's History Department as well as Izabella I. Solivan, President of Salve Regina's Student Government Association. Together, with a live audience, the three welcomed the honored guest, Dr. Bernard LaFayette Jr.
Rampant well before the Civil Rights Movement, racial inequalities and injustice have been present within our society. However, the heart of the conflict that stirred nations worldwide to react was between the 1940s and 1960s. Dr. LaFayette was a leader in the movement, playing a large role in the Freedom Rides that took place in Montgomery, Ala. where he and others were met with brutal force for their just actions for freedom.
As a guest speaker, Dr. LaFayette shared his ideas on the future of Civil Rights and answered many questions from the audience. From these questions, he was able to express many of the thoughts that he believes in about the topic and provide some insight on current issues. Dr. LaFayette expressed, in answering one of the questions asked to him, "My greatest fear right now, is that we are not spending enough time with our young people to help them interpret what's going on." He believes that the younger generation is spending so much time on their phones and instead of connecting with people in front of them. Dr. LaFayette delved into a story about how he was very close with his grandmother because he was able to talk with her instead of being on his phone all day long. As a result, he was able to develop a wonderful relationship with her.
"Non-violence is as old as mankind but as foreign to many people." Solivan mentioned this idea as it was something that Dr. LaFayette said in a Ted Talk in 2012. Elaborating, Dr. LaFayette explained that we as people have a likeness. Despite this, it is not enough to be able to live in a peaceful way. He believes that we have to understand not only what's important to us, but to other people around us as well, "Understanding. It means standing under others, lifting them up so they will not fall down." He expresses that it's okay to not agree on everything, but understanding others is important. Yet, despite these differences, coming together would mean not letting this difference divide us.
Abigail Ransegnola is an English communications student at Salve Regina University and an intern at the Pell Center for International Relations and Public Policy.